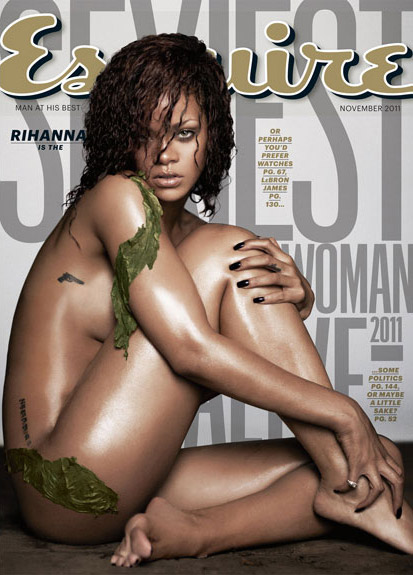 Rihanna has officially been named the Sexiest Woman Alive by Esquire. The Barbados beauty bares it all on the cover of the magazine's November issue, wearing nothing but a few pieces of green paper in the smoking hot photos by Russell James.
Despite her racy image, RiRi says she never deliberately tries to be sexy during her shows. "At the end of a concert, I don't feel like I've been this sexy thing. Really, I don't even think about it," she tells the magazine.
She also opens up about Chris Brown and his career comeback. "It's incredible to see how he pulled out of it the way he did. Even when the world seemed like it was against him, you know?" she says. "I really like the music he's putting out. I'm a fan of his stuff. I've always been a fan. Obviously, I had some resentment toward him for a while, for obvious reasons. But I've put that behind me. It was taking up too much of my time. It was too much anger. I'm really excited to see the breakthrough he's had in his career. I would never wish anything horrible for him. Never. I never have."
See much more below.