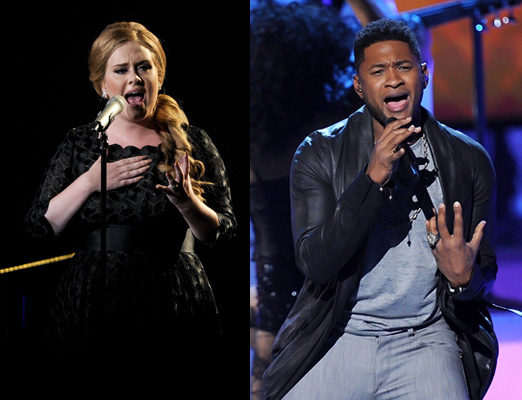 Adele may just unseat Usher if sales of her massive album "21" continue to soar. Taking notice of the "Rolling In The Deep" singer's rise, Usher told fans to stop buying her album in a radio interview this week.

"I have to confess that I have told a few people not to go and buy Adele's album because I don't want her to go and break my record," Usher told the Capital Breakfast Show. "No actually, I love her. Unfortunately, she's the closest to breaking my record for the last ten years. So now guys, don't go and buy that album right now."
While he was joking saying "don't go and buy that album," Usher was correct in saying Adele is close to breaking the record he set with "Confessions" in 2004.
As widely reported, "21" continues to sell by leaps and bounds, moving another 150,000 + copies this week alone. It has sold over 8 millions copies in the US alone, while the album is Diamond-certified worldwide.
Released in 2004, "Confessions" stands as the best-selling album of the 2000s. In addition to breaking records first week, with total sales at 1.1 million copies, "Confessions" is Diamond-certified in the US and worldwide.
Considering Adele is still moving over 100k copies of "21" per week, Usher could be out of luck. The R&B superstar continued on saying he thinks the world deserves a collaboration between the two, "I think the world deserves an Usher and Adele record. That's what I think. That would be the other UK connection that I think everybody would be really fond of and enjoy."
via Singersroom & CapitalFM