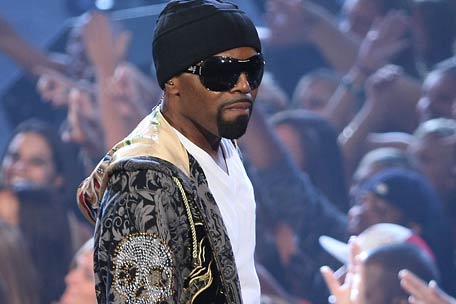 When it comes to R&B legends, Teddy Riley will forever be mentioned as one of the the greatest producers, creators and influencers. With a resume spawning over 2 decades and multiple genres the New York native was responsible for 2 of the biggest R&B groups in the '80's and '90's. In a recent interview with AOL's TheBoombox the hit-maker spoke about his plans for the reunions of Blackstreet and Guy, and his forthcoming reality TV project.
See excerpts from their chat below…
There has been some talk of a Blackstreet reunion. How far are you with getting back with the guys?

We are working on the Blackstreet record right now. I was going to release a single, but I pulled it back, because I wanted to take time with the whole thing. I look at it like building a house. You have your floor plans and each one is different; and you have different room colors. That's how I look at this new Blackstreet album. Then we will choose a single from there.

You seem to be taking a pretty old school approach to this Blackstreet project. Can you find success working in that manner in today's online downloading world, where artists upload music as soon as they record it?

I have to be me. Because that's the only way I know how to make music. I want the fans to be able to choose the records as well. I want to give everyone a shot to be a part of the music. I was moving really fast in the beginning on this Blackstreet project. I wanted a Valentine's Day single. But I said, "You know what? Let's not rush it. Let's do it right." I just got a studio house for me and the guys. We are going to live together. This house is away from everything. We are going to pull this album off and make a magical record.

You've produced everyone from Keith Sweat and Bobby Brown to Michael Jackson to Lady Gaga. How have you been able to stay so relevant during your 25 plus year run?

I still love the music. I have made history with these artists. When you work with great artists like Michael, you learn how to make a great record. You learn how to put together a real album. I have been blessed. Get ready for my story to be told … we also have a TV project coming up.

What kind of concept can fans expect?

It's going to be called 'The Life of Riley,' and it's about my life. We just signed the contracts. It's going to feature me, my daughters and my son, Blackstreet and Guy. We are still working on the channel details.

Now that's some big news. Are we going to see a Guy reunion as well?

Yes … Aaron [Hall] and Damian [Hall]. I've been talking to Aaron. It looks like we are going to do a tour. I think it would be great if Guy could tour with New Edition as well. That would be my ultimate goal. I would like to have at least one major show sponsored by a company.
Read the full interview Here