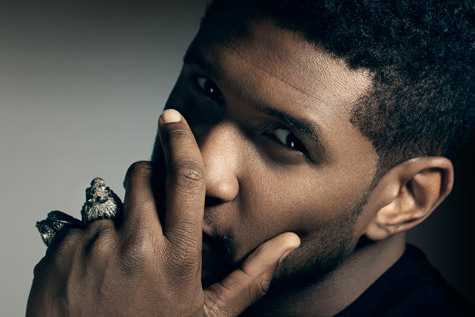 Usher has certainly captivated the attention of old and new fans once again with his current buzzing single "Climax." As we have been reporting Ursh has been in the UK making media rounds and recording with singer/songwriter Labrinth. Last night the R&B superstar assembled a who's who of the UK media at a London venue for an exclusive playback of tracks he's been cooking up for his new album.
ThatGrapeJuice was in the house and quizzed the man himself on what the LP will be serving up. Including the rumored album title! Check out their track preview and more below…
Track-By-Track Preview:
(Please note, as tracks are still in finishing stages, no titles were provided. Just played.)

Track #1 – Climax: Need we say more?

Track #2 – Unnamed: Dance-heavy. Synth-heavy. Evocative of 'DJ Got Us Falling In Love'.

Track #3 – Looking For Myself (TBC): Wholly "different" for Usher and unlike anything we've thus far from him. A guitar-driven, bouncy, Urban-meets-Pop mid-tempo. Solid.

Track #4 – Take That Dive (TBC): Produced by Rico Love (as per his trademark "turn the lights on"). A distinctly R&B mid-tempo with a pulsating "thump". Great vocal production in the way of layering and texture. Boasts an anthemic chorus.

Track #5 – Unnamed: Perhaps the most "interesting" cut of the bunch, its Caribbean-flavoured production presents a unique backdrop for Usher's patois inspired delivery. "Oh na, this woman put a hex on me. She finna put that sex on me". Great track.

Track #6 – Let Me See (TBC): As became a trend with the latter cuts, this whimsical number seemingly offered up a number of songs in one. Beginning like a quiet storm of sorts (think Kelly Rowland's 'Motivation'), the track builds into a busy climax.

Track #7 – Unnamed: Easily the most "radio-ready" of the tracks, this is clearly geared at the dancefloor. Heavy on the Pop gloss, this features a pronounced "stomp", as the singer belts laid-back lyrics "show my what you come her for". A definite party/ club cut.

Track #8 – Unnamed: Urban-Dance at its premium, balanced best. While lyrically not offering much, the pulsating production takes centre-stage here. Usher infectiously sings "I hope you're ready to go all night. Let me hear you say "oh baby", "oh baby", "oh baby". An uptempo if we've heard one, the bridge sees things slow right down into border-line ballad territory, building into a euphoric last chorus. Epic and a "must" for the single treatment.

Track #9 – Unnamed: Clearly, the best was saved until last. As this uptempo was an absolute banger (and received a unanimous round of applause). Best characterised as schizophrenic, this Electro-Pop-Urban fusion effortlessly weaves three tracks into one. Leaving no confusion as to the song's agenda, the star sings "we came to party up, we came to party up" over the Ibiza ready chorus. A monster smash.
The Sound:

Immediately palpable is that Usher has re-embraced his R&B roots. Indeed, fans of his Urban offerings will be pleased to discover that current single 'Climax' isn't a fluke. Present on the project are a vast number of markedly "Urban" cuts. And while recent efforts haven't been wholly Pop affairs, they've arguably lacked in single-worthy R&B numbers. A relative issue which has been consciously remedied this go round.

Talking to That Grape Juice at the event, the Grammy winner said: "I really wanted to bring back the soulfulness this time. And yet do so from a different perspective. A perspective of growth".

To help craft such material, the crooner tells That Grape Juice that he has enlisted Rico Love, Salaam Remi, Luke Steel, Swedish House Mafia, Diplo, among others.

And while Urban is where the heart is, it's important to stress that the 34 year old hasn't ditched dancefloor. And why would he? The likes of 'OMG' and 'DJ Got Us Falling In Love' serve as some of his biggest hits yet. As such, tracks in vein of both also appear.
Contrary to erroneous reports, by CNN of all places, the album is NOT titled "The Shanterance," wheww, that was awkward. A title has not been decided as of yet, so stay tuned!
In related news, Usher revealed the mysterious upcoming movie role he hinted at in his V103 interview. The R&B star will be playing legendary boxing champion Sugar Ray Leonard in a film about another famous fighter, Roberto Durán, titled "Hands of Stone." Speaking with BBC Radio he explained that if people see him running around London, it's part of his training for the role. "I'm in preparation for a very incredible role," Usher told the BBC. "If you see me in the corners boxing, I'm doing that while working on this album."
The movie will begin filming later this year. Usher will star opposite Robert De Niro, who was cast as boxing trainer Ray Arcell, and Gael García Bernal in the picture.
UPDATE: Our friends over at SoulCulture UK were in the building for the exclusive listening, and had some more in-depth info to share. Check it out…
Usher also collaborates with classic-crafting Miami producer Salaam Remi for "Sins Of The Father" on the LP. "The inspiration of it is, why do we sometimes deal with things that we don't understand? Our past can lead us down a road because we didn't even know it," he told SoulCulture. For example; "The time spent with a father will teach you a certain understanding of live and how to cope and deal with things."

The Chattanooga, Tennessee raised star adds, "The lack of a father being there can also teach you how to deal with life – and that's what 'Sins Of The Father' is about… That statement was made because that's something that I felt."

"But I'm adding to the statistic that there are fathers out there who are there for there children, who are there to raise them, who understand that they have to take that time and really make sure that they make that connection.

"And understand that these kids are future adults – they're not kids – so if you don't give them the time and attention they need now, then they'll be running around and somebody else will be knocking them upside the head or they'll be incarcerated." He adds, "That song in itself is kind of a testament to the father that I became."

Exploring a wider soundboard on The Shanertance Usher muses; "There's a new world in music and culture out there – you'd be surprised at the type of things that I've been inspired by… Even if you just look at the choice of producers that I've selected to work with on this album, it's a clear indication that it's not just your typical run of the mill."

"I feel like – and this is a statement that's true of life – if you're able and willing to take a risk then you'll receive or even reap great benefits or rewards that come with it."

"So that's what this album is – it is a step," he adds. "It's all about growth and really rising."

Walking with my head down, counting every step / Hoping that the next one brings me closer to the man I was opens "Looking For Myself," featuring Luke Steele from Empire Of The Sun, with a laid back alternative rock-edge and reflective lyrics.

A smooth, cinematic R&B cut emerges next with soft keys, a gentle drum beat and sweetly-controlled vocal runs to falsetto as Usher sings, I'm not afraid to try.

The aforementioned "Sins Of The Father," produced by Salaam Remi, sounds like it might be an album highlight with its reggae vibe meets Marvin Gaye or Curtis Mayfield whilst addressing family issues.

R&B swag back on, Usher finds himself rapping once again on "Let Me See," a sexy club thumper produced by Jim Jonsin, complete with freaky, cheeky lyrics; She wanna take her skirt off…be my guest / I decide to take my shirt off…and show my chest / And you've been sipping on that Merlot, so you know what's next / Perfect intermissions, switching positions / It's so explicit.. He sings, What you gon do to me? / Don't talk about, be about it / Let me see, let me see.