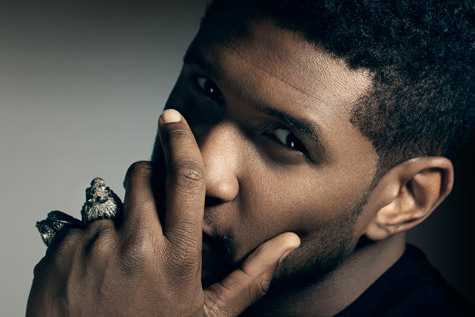 While his current song "Climax" is still rocking the charts, and maybe has not hit its own meaning just yet … Usher is already prepping his next, official single. ThisisRnB has learned the R&B superstar will be releasing a brand new song as early as the beginning of next week!

We can confirm to you the song is titled "Lemme See," it features a verse from Rick Ross, and is produced by hitmaker Jim Jonsin.
However, Ross isn't the only one rapping, as our friends over at SoulCultureUK, who previewed the song during Usher's private listening session last month in London, announced. According to their report the song is…
a sexy club thumper, complete with freaky, cheeky lyrics; She wanna take her skirt off…be my guest / I decide to take my shirt off…and show my chest / And you've been sipping on that Merlot, so you know what's next / Perfect intermissions, switching positions / It's so explicit.. He sings, What you gon do to me? / Don't talk about, be about it / Let me see, let me see.
"Lemme See" will be the second release off Usher's much-anticipated seventh studio album Looking For Myself, which is due online and in stores on June 12 via RCA Records. The LP is expected to boast collaborations with the likes of Salaam Remi, Rico Love, Jim Jonsin, Pharrell, Max Martin, Diplo and more.
Usher and Rick Ross have collaborated in the past on the Diddy-Dirty Money song "Looking For Love," and on the DJ Khaled single "Fed Up." The new song is expected to premiere on radio next week … so stay tuned!