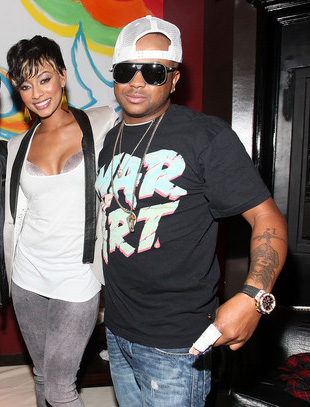 R&B artists Keri Hilson and The-Dream are as known for their musical penmanship as much as they are for being entertainers. Both got their start songwriting and have been churning out hits for today's hottest artist the past five to ten years. The pair also share a niche for crafting music geared towards females. They recently caught up with our friends over at TheBoombox to discuss the gender disparities in songwriting, their opposing views on who's better at writing sexualized music, and why The-Dream likes working with Rihanna.
Check out the full interview after the jump.

Female anthems have helped keep the music industry afloat. The music that Beyonce has made a career of, that Rihanna is known for and that helped Adele achieve the top-selling record of 2011 seems to be geared toward a female audience. On the surface, women are running the show, but the very songs that millions of ladies flock to aren't commonly penned by females. Behind closed doors, there's a noticeable imbalance in the ratio of major female songwriters to their male counterparts.
The BoomBox spoke with a select group of male and female songwriters to gain perspective from both ends of the spectrum. Without a concrete theory as to why women have either disappeared from the songwriting scene or never had a huge presence, their absence cannot be ignored. Songwriters like Diane Warren, Linda Perry and Jonie Mitchell have paved the way for their female successors, but there's still much more work to be done.
"It still is a male-dominated world, but there are some amazing songwriters that are doing their thing," Keri Hilson tells The BoomBox. "It's becoming more balanced, but there are still way more successful men."
A student of producer Timbaland's creativity, Hilson wrote for the likes of Britney Spears and Mary J. Blige before embarking on a successful solo career. Being that she has seen the industry from the front and back, the Atlanta native is aware of the struggles that women go through, but she is not deterred by them.
"I don't know that you can [say] that it's easier or harder [for women]," Hilson says. "It's such a saturated market now that everyone has the equipment to be a songwriter and a producer. That's due to the onset of songwriters also getting as much notoriety as producers have gotten. It was such a producer-driven game.
"The one thing that females are going to run into is not being taken seriously. We're women, and it is male-dominated. You have to demand an equal amount of respect, and the way you do that is do what you came to do — impress them and leave. If you make a wrong decision, it's going to make it that much harder. Me, I've never had that problem. I come and do my job, stay until the job is done and I leave. That's the only hardship that women run into. A lot of times it's a dark room, in the middle of the night, we're working 'til morning. These are circumstances that are not normal. If you demand respect, the sessions will go as comfortable as you are. Bottom line: Just keep it professional."
Watching other women gain footing as songwriters is a special experience for Hilson, who says that she is "proud" of what current, notable women-songwriters like Ester Dean are doing. The aforementioned scribe is behind songs for the likes of Nicki Minaj, Kelly Clarkson, Usher and Kelly Rowland. She's found her niche in creating playfully seductive tracks like Rihanna's "S&M." If men tend to have the breakup song and ballad genres on lock, Hilson believes that when it comes to being sultry, women have an added advantage.
"The female songs that are being written by males are probably more sensitive to the females' plight," she says. "Females, we're not afraid to express our sexuality. They [men] don't go as deep into exploiting the sex."
Not so, says The-Dream. Among his latest tongue-in-cheek hits is Rihanna's "Birthday Cake," a thinly veiled reference to oral copulation. For Dream, the key to working with a woman — or any artist — is getting them to let their guard down.
"I have to be like a journalist almost," Dream reveals. "There can be certain points that women don't want to say, that I write, but I definitely write everything and anything that should be said."
He relies on his work with Rihanna as a case in point. "[For example] Rihanna's very comfortable about what she wants to do or get across in any song," he states. "I think that has a lot to do with the vehicle and what men want to write. We're kind of under the umbrella of knowing that women are sexually more advanced than we are. We get it! Even though the roll is played to be the [opposite], the truth is women are more sexually explicit than we are. Me knowing that as a songwriter, the logic would be me trying to find out what are all those things, and being able to express it without any restraints. The only thing the artist can tell me is, 'No, I don't want to sing that.'"
Having been raised by his mother, Dream, born Terius Nash, feels more sensitive to female emotions, and he tries to write for women by tapping into their personal stories. He has no qualms about pushing the envelope, if need be.
"The topics change based on what you're going through in your life," he says. "Hence, Beyonce was going through marriage for the first time in her life when I wrote 'Single Ladies,' but the blessing is in how I was raised and my principal of it, and how I feel about [marriage]. I wrote a song about a relationship that's starting but sings, 'If you like it then you should've put a ring on it,' meaning a lot. [Meaning] that, 'I'm OK with being this type of girl,' which men want to hear, and women want to say.
"In the middle of empowerment of women, and women being independent, I was still able to write a record that pierced the souls of [what] women were actually feeling and thinking. [Artists'] input helps, but it's also my stance from a logic and common-sense point as a man that helps those songs get to a certain place."
Like Dream, songwriter Claude Kelly is familiar with the task of writing female relationship anthems.
"It's much more complicated," Kelly says of writing for women. "As a man, it's challenging to think in the terms that a woman would think. What it takes for me to do it is I just shut out the outside world and almost channel and become the artist I'm trying to write for. You have to have no fear and no guards up and no preconceived notions."
In 2011, Kelly won a Grammy for writing Fantasia's "Bittersweet." The song was constructed by tapping into the "American Idol" alum's private life.
"In the case of Fantasia, I put myself in the position of a woman who felt angry, hurt and vulnerable and longing for a man who she could no longer be in a relationship with," Kelly admits. "That's not something I've ever dealt with [personally]; really what it takes overall is fearlessness."
Even if women are the minority in their fields and are commonly shut out of dominating the songwriting game, what matters is the perseverance that these women display. Rather than being hung up on the disproportion, many are just trekking forward to make their own personal triumphs. Songwriter Makeba Riddick has had the unique experience of being a female songwriter who has written love songs for men and women. She attacks every job the same.
"Being a female in this game you have to carry yourself with an extra boost of confidence, and even a little cockiness," she shares. "Men in this game look at the females like they're a little weaker, [like] they don't have the same drive and ambition, so you gotta go just as hard as the males you are writing and collaborating with. I had to prove myself, that I was more than just a pretty face trying to get on, that I actually had the goods to compete with my male counterparts.
"I've written for male artists before. I will continue to do so if I'm asked to do it. I won't shy away from it, because I already know what I'm capable of, based on my track record. [I would tell female songwriters to] keep your respect about you; you don't have to settle for anything just because you're a female."
Even if the tides don't drastically change, so long as women continue to stay focused on the project at hand, they're on course to take hold of an industry that men have reigned over for years.
via TheBoombox
What do you think??