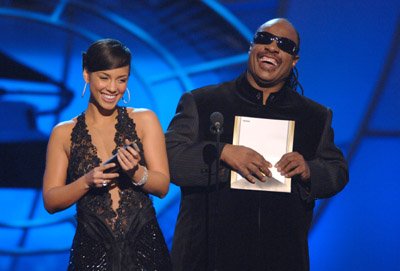 Grammy winning singer Alicia Keys will present the Billboard Icon Award to Stevie Wonder, and perform with the legendary artist at Sunday's 'Billboard Music Awards,' Entertainment Weekly has reported.

There haven't announced what song, or medley of songs, the pair will perform. Wonder and Keys have had a long-running kinship and respect for each other, as they performed "Higher Ground" together at the 2004 MTV VMA's and presented together at the 48th Grammy Awards in 2006. Alicia has won 10 Billboard Music Awards during her career.
Other performers include Chris Brown, Usher, Nelly Furtado, Kelly Clarkson, Linkin Park, Carrie Underwood, Justin Bieber, LMFAO, and The Wanted, with presenters Swizz Beatz, Wiz Khalifa, Robin Thicke, Brandy, Monica, Taio Cruz, Natasha Bedingfield, and more.
John Legend and Jordin Sparks will participate in a musical tribute to the late Whitney Houston, who will receive the Millennium Award. Her daughter Bobbi Kristina and sister-in-law Patricia Houston will be present to accept the honor.
The 2012 Billboard Music Awards will air live from the MGM Grand in Las Vegas on Sunday at 8 p.m. on ABC. Adele, LMFAO, Rihanna, Lady Gaga, and Lil Wayne are among this year's finalists.