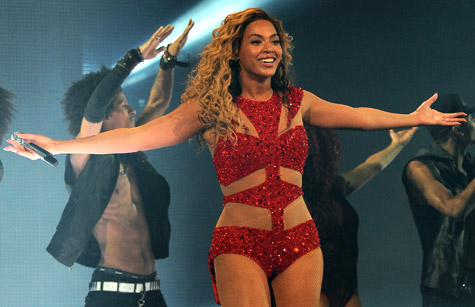 She's back! Beyoncé made a triumphant return to the stage for her first show in nearly a year at the $2.4 billion Revel resort in Atlantic City on Friday night.
Following an opening set from burgeoning singer Luke James, B took the stage, showcasing new choreography, a new stage design, and new musical arrangements. Shimmering in a fringe dress, she kicked things off with "End of Time" before delving into her catalog of solo hits and Destiny's Child classics, not missing a step as she performed against a giant LED wall with a full band and dancers including French duo Les Twins.
She changed five times during the two-hour set with "modern showgirl"-inspired looks, including a black and silver pinstripe vest and Swarovski-studded red bandage dress, all custom designed by Ralph & Russo.
In addition to her own material, Beyoncé covered Lauryn Hill's "Ex-Factor" and paid tribute to Donna Summer during "Naughty Girl," which samples the late disco queen's "Love to Love You Baby." With just a spotlight on her, she sang her idol Whitney Houston's classic "I Will Always Love You," before transitioning into "Halo." The sold-out show came to a triumphant close with her 2008 single "Single Ladies (Put a Ring On It)."
"I'm tryna become Sasha Fierce again," said the 30-year-old superstar during rehearsals. "She's dead, but I need to bring her back to life."
Catch clips from the show below…