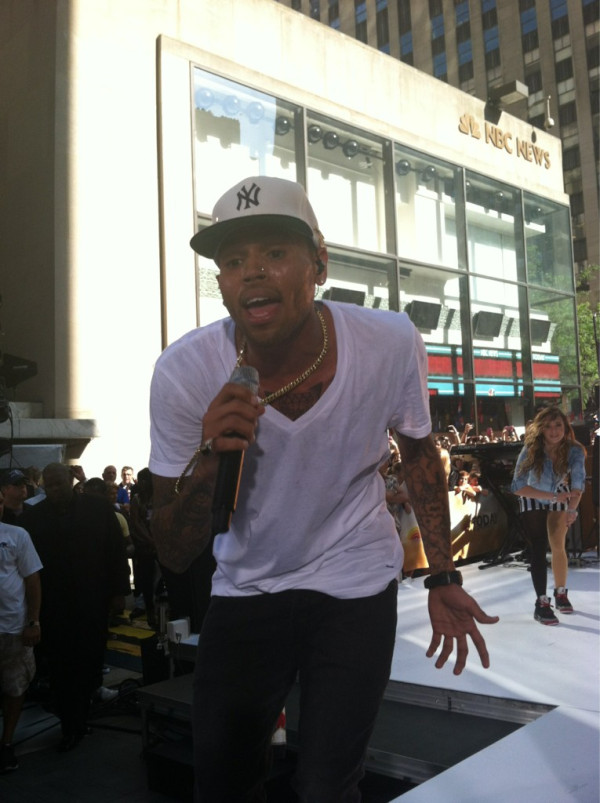 Chris Brown shut down Rockefeller Plaza in NYC once again Friday morning, as he hit the stage of the "TODAY" Show 'Toyota Concert Series.' The R&B Pop star sported a vintage Ralph Lauren 'Snow Beach' parka as he made an hysteria causing entrance to his comeback smash hit "Forever." The auto-tune was heavy on the mic, but that's expected right?
Shouting out Team Breezy he followed up with his latest dance single "Turn Up The Music," backed by a troupe of dancers, female and then male who tore it down with their choreographed moves. As if it couldn't get any louder, every hand of the packed crowd was in the air when he continued the set with "Yeah 3X," and turnt the early morning into a party during the dance break.
To close out his rousing set CB got intimate with the crowd as he treated the audience to his new Pop single "Don't Wake Me Up," as his crew of background dancers got close with waltz-like moves. In related news Breezy will premiere the music video for "Don't Wake Me Up" on 106 & Park this coming Monday.
See all the wild performances below, and get ready for the weekend.