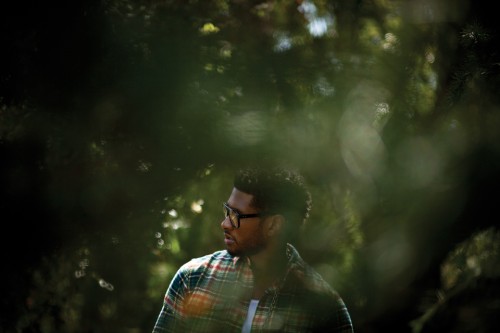 After more than a decade of being on top, Usher's new album proves he's never been more persistent. The R&B superstar has influenced generations, sold 10's of millions of records, won seven Grammys, and changed popular music numerous times. With the release of his seventh studio album Looking 4 Myself, in stores now, the 33-year old pushes the envelope once more, and in a recent interview for the new issue of FADER magazine, he discusses the new album, drive for growth and diversity, creating the breakout hit "Climax," influence of Hip-Hop on R&B, and much more.
See some excerpts from the interview below…

Where did Looking 4 Myself come from?
I was surprised to hear that you're still looking for yourself at this point in your life. I think we go through these metamorphoses in life and we're always hitting the reset button. Or sometimes we don't and we find ourselves recycling life experiences. If you don't address certain things, it's reciprocal. You just keep going through it, keep having the same experience over and over and over again. So I went through that in my personal life, where I began to just say, Man, what's going on with me? What matters? What's cool? What's not? What do I like? Can I make music that I just like? Can I just make music that I was inspired to make?

Do you feel like you haven't been?
At times I felt like when you have an audience that spans from five to 50, that's a high-class problem to have. When you sell a million in a week, you did something right. It's very hard to go back to where you were when you were 18, right? As a journalist, you're not gonna go back to where you were at 21. You may have done incredible pieces, and maybe people would say to you, Sure, that was one of your best pieces ever, but okay, that was then, and here is a new vision of how I look at things and how I interpret things. So, Looking 4 Myself is a bit of my own journey, but I think it was a very creative way to talk about a journey through life. What are you looking for? I'm just looking for something that makes me feel good.
Do you think "Climax" is a song that can appeal to everyone?
I think that it is a song that the majority of my audience will like. But for my core, if I didn't catch them with this new sound, at least I caught them with a vocal that felt reminiscent of something I'd done before. Then, singing in falsetto, that was classic. So my older demographic, they remember that. There was something about The Spinners or something about The Temptations that that older audience loved. They love when—I don't know what
it is, but as a kid doing talent shows, any performer that had the ability to go to his falsetto won the show. It's crazy.
What do you think about the general state of R&B, with the recent success of The Weeknd and The-Dream? Do you feel like they owe you something?
I'm pretty sure that I helped to drive the inspiration behind certain things. But I don't take ownership in it. I'm cool with everybody.
Do you like it?
I like it. I think taking ownership is just enjoying it, you know what I'm saying? I think it was cool, the first time Drake performed in Atlanta, he actually performed in the place I got discovered. He throws on—I think it was "Dot Com" or "Seduction." And I kind of walked out on stage and gave him a pound and the crowd went crazy. They didn't know I was there. But just like out of respect for me, he's like, Yo, this is the type of shit I used to listen to when I was coming up, you know, and I used to—this is my jam, this is my shit. And he threw the record on. An impromptu moment, I just walked up and just gave him a pound, cause I thought, you know, respect. You got ATL love. I consider myself an ambassador of the A.