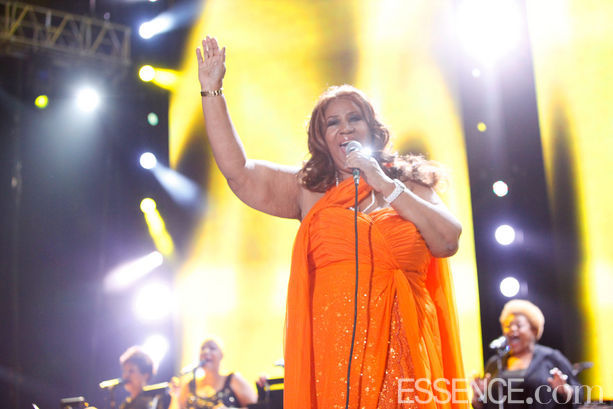 It was certainly a night to remember to put it lightly, as the 2012 ESSENCE Music Festival went out with a Bang on Sunday night. The show kicked off in grand worship fashion with the legendary Kirk Franklin, then shifted to modern soul with Anthony Hamilton and Fantasia, and then took it back to the good ole days with the incomparable Aretha Franklin and Chaka Khan. No need to sugar coat it, read Essence's account of last night's show and see photos below… #SupportR&B!

It's the final night at the ESSENCE Music Festival and all of tonight's performers made one of the summer's most anticipated weekends go out with a bang.
For those who didn't make it to church this morning (because of too many hurricanes on Bourbon Street Saturday night, perhaps?) Kirk Franklin opened the evening with a soul-stirring set of his greatest gospel hits. First up was a high-energy rendition of "Looking For You" that immediately got everyone in the crowd on their feet. Franklin, who donned a chic YSL T-shirt underneath a fitted blazer, wasted no time getting the audience pumped up and revisited some of his old gospel classics such as "Brighter Day," "Why We Sing," and "Silver and Gold." As if the praise party weren't already hype enough, Franklin fans got a double-dose of worship when gospel great Marvin Sapp stepped onstage and closed out Franklin's 2012 hit "I Smile."
Following behind Franklin's gospel extravaganza was another soulful performance by vocal powerhouse Fantasia. Not only did Fantasia bring her A-game when it came to singing, but girlfriend looked like a million bucks in black sequin pencil pants, a fitted tuxedo jacket and waist-length curly hair. Before she belted out a single note, Fantasia warned the crowd that they were in for a treat. "I hope you didn't come to be a spectator. I hope you came to have a good time," she said alongside a full marching band that played in the background during "It's All Good." Immediately after Fantasia warmed up the crowd, the diva took us back with a version of Sam Cooke's "A Change is Gonna Come." In true Fantasia form, the rest of her set was performed barefoot, as the songstress whipped off her stiletto heels and made herself comfortable onstage. Hits that followed included "Collard Greens and Cornbread," "Free Yourself," and "When I See U." Not one to hold her tongue, Fantasia also addressed some of her critics when she sang "I'm Doing Me" and frankly told the crowd, "If you don't like Fantasia, then don't buy a Fantasia ticket." Welp. The American Idol champ then delivered a heart warming `version of "Even Angels" while images of Whitney Houston, President Obama, Maya Angelou, and Trayvon Martin flashed on the Superdome screen. Fantasia closed out her set alongside gospel star VaShawn Mitchell as the pair sang "Nobody Greater."
North Carolina native Anthony Hamilton was up next and gained a few new fans as a result of his electric 45-minute set. Hamilton warmed up with the feel-good-about-love anthem "Cool," before going into the smooth ballad "Best of Me" from his latest studio album Back to Love. Keeping the slow mood going, Hamilton then delivered "The Point of It All" before picking up the pace and heading into the audience to kick it with the crowd.
Aretha Franklin took the stage next for one of the most anticipated performances of this year's festival. The Queen of Soul began with a rendition of Jackie Wilson's "(Your Love Keeps Lifting Me) Higher and Higher" before going into "(You Make Me Feel Like) A Natural Woman." Franklin sang each song with elegance and ease, and her voice sounded just like it did when she rose to fame in the 60's. As Franklin shimmied across the stage in a long, glistening orange gown, the crowd stood on its feet and sang along to the diva's hits including "Chain of Fools," "Giving Him Something He Can Feel," and "I Never Loved A Man the Way That I Love You." In honor of Franklin's longstanding career in music, New Orleans Mayor Mitch Landrieu, ESSENCE President Michelle Ebanks and ESSENCE Editor-in-Chief Constance C.R. White presented Franklin with the ESSENCE Power Award for the Greatest Voice of All Time and a key to the city of New Orleans. After Franklin received her awards, the musical icon took a seat at the piano to pay tribute to her longtime mentee and friend Whitney Houston. Sprinkled in between Franklin's 90-minute performance were family photos, jokes, and complaints about the air conditioning (honestly, we can't blame her- it was freezing in the Superdome.)
After Franklin sashayed off the Mainstage, the stars of the new reality show R&B Divas paid tribute to legends lost including Etta James, Nick Ashford, Vesta Williams, Donna Summer, and Whitney Houston. Monifah sang Summer's "Last Dance," Brownstone's Nicci Gilbert sang "Congratulations," and Sylenna Johnson took on James' "At Last." Faith Evans followed with "Reach Out and Touch" while KeKe Wyatt closed out the tribute with Houston's "I Wanna Dance With Somebody."
The final performance of this year's ESSENCE Music Festival was from the one and only Chaka Khan. Flaunting her trademark crimson-kissed mane and vivid red lipstick, the soul songstress showed off her newly slim physique in a fitted, sequin wrap blouse and leggings. Chaka blessed fans with her original hits including "I Feel For You," "What Cha' Gonna Do For Me," and "Stay." As audience members stood on their feet and sang along to Chaka's rich vocals, she slowed it down with "My Funny Valentine" and "Sweet Thing" before picking up the pace again with "Tell Me Something Good" and everyone's favorite jam "I'm Every Woman."
It was a night to remember at the Mercedes-Benz Superdome on the final night of this year's ESSENCE Music Festival. From D'Angelo's soul-stirring comeback to Fantasia's foot-stomping performance and Mary J. Blige's powerful show, we collected enough musical memories to get us through the next year.
[Essence]
[nggallery id=133]
*not sure why there are no photos of Chaka up yet, but if they add we will update!