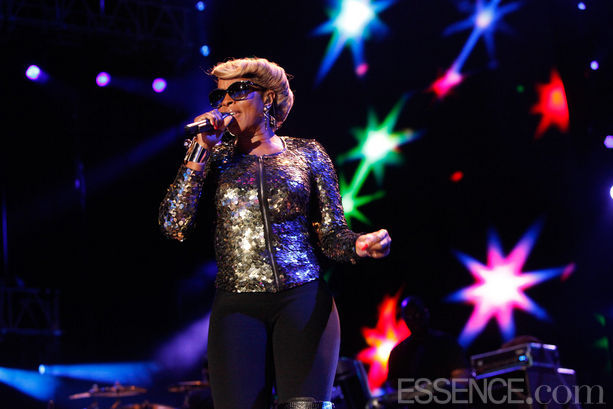 As if day 1 of the 2012 ESSENCE Music Festival wasn't just about as good as it gets, Saturday night's show highlighted and delivered what we all love and yearn for from our R&B artists and vocal powerhouses. Day 2 at the Superdome was a brilliant mix of talent between music and comedy, R&B heartthrob Tank open the show, the singer-songwriter even brought out Tyrese who sent the ladies into a further frenzy. Mary Mary brought everyone to their feet, singing along to the duo's classic worship anthems, Ledisi tore it down as always and Mary J. Blige nearly lit the arena on fire.
Once again ESSENCE did a great job summing up the show, read their review and see the photos below…
First up was Tank, who took the stage dressed in a black velvet blazer and sunglasses. He immediately let the ladies in the audience know the show was for them. The R&B crooner was the epitome of sex appeal – often licking his lips and giving the crowd bedroom eyes. In the middle of his set, Tank brought out fellow TGT member Tyrese who instantly made the ladies swoon. Tank closed out his set with "Please Don't Go." But before heading off stage, he very coyly removed his shirt giving the ladies an eyeful of his glistening muscles.
At exactly 7:45 pm the Superdome transformed into a house of worship as Mary Mary took EMF goers to church! Dressed in silver glittery numbers, they praised God with hit after hit from "Walking" to "Go Get It." Tina Campbell, who's set to give birth to her fifth child in the next few weeks, didn't let her belly slow her down – she belted out notes with ease on "Yesterday." The ladies wrapped up their set with "God in Me" and soon shimmed off stage.
New Orleans native Ledisi came next. Wearing a stunning silver sequined dress reminiscent of Tina Turner, Ledisi tore up the stage up with a slew of her fan favorites from "Get to Know You" to "Raise Up." The diva even let her red locks down as she danced across the stage – showing she's not only a vocal powerhouse but she can move with the best of them. The pace finally slowed down with "Bravo" and after that she quickly changed into a cute black and white leopard print romper with a boyfriend blazer and sky high red heels. With the relaxed look the diva stepped into the spotlight and flaunted her vocals once more on "In the Morning," "Stay Together" and "Pieces of Me," which she wrapped up with.
The comedy segment of the evening kicked off with Na'im Lynn who warmed up the crowd with a flurry of sex jokes. Kevin Hart's grand entrance, complete with smoke and shooting flames, was met with thunderous applause. Dressed in a white t-shirt and black jeans the comedian kept the crowd chuckling with laughter with one joke after another. Through his routine, Hart told several stories about his personal life highlighting friends, his ex-wife, relationship ups and downs and dating. The good times rolled on as he shared more stories about fatherhood. Hart received a much deserved standing ovation from the crowd after telling more than 45 minutes worth of jokes.
The night's headliner Mary J. Blige didn't disappoint. With her blonde hair tightly rolled to the side, wearing a gold sequined jacket and her classic knee-high boots, Blige started her set with Chaka Khan's "Ain't Nobody." The energy was so great it flowed from the stage and filled the Superdome bringing fans to their feet. She then launched into "Family Affair" turning the dome into a "dancery." Blige took the party back to 1992 with "Real Love" leading thousand of fans in song. From there she led the concert into an inspirational direction – letting the women in the audience know you can't be broken by negative comments and absent men. The empowerment experience continued as Blige excused herself for a quick wardrobe change returning in a gold sleeveless vest. She time traveled through a myriad of her greatest hits from "My Life" to "Not Gon' Cry" to "No More Drama." With each passing song Blige relived a painful memory. It was evident from the emotion on her face. By the night's end, Mary broke through the drama and ended her long set on a positive note, giving her all on "Just Fine." She soon exited the stage and fans stood in their seats chanting her name – begging for one more song. The Queen of Hip-Hop Soul returned to the stage for a special encore performance of "Can't Be Without You" and had the entire Superdome singing in unison by the end.
[Essence]
[nggallery id=132]