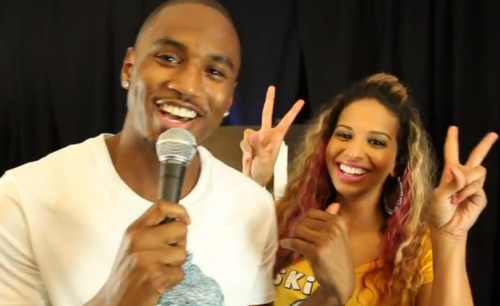 With Trey Songz' forthcoming album Chapter V, just 2 weeks away the R&B star has been on the promo run. Last week stopping by radio station Wild 94.9, to talk about the new LP and answer all crazy host Nessa's pressing questions. One of the interesting topics was his thoughts on the gossip causing posthumous Aaliyah album,
"I think the song is dope. It's good to hear Aaliyah's voice," stated Trey. "Just the concept of the song was dope and just to hear her singing completely unheard lyrics was amazing to me. I didn't really judge it from a place like is it good enough, I was just happy to hear it."
Trey would like to see Timbaland and Missy Elliott on board as well. "I think it would be dope if Timbaland and Missy did it though," he continued. "I think that's the best way to do it, but you don't know the particulars on what's going around. You don't know who owns her music, you don't know any of that. So I don't get to talking about stuff I don't know about."
Check out the comical interview below…
UPDATE: Added clip of Trey responding to Ne-Yo's recent comments about the singer from his following interview with KMEL 106.
[Rap-Up]
During his trip to the Bay Area, Trey Songz always spoke with the ladies of KMEL 106, during their chat they brought up a recent comment made by Ne-Yo, in which he kind of said Trey doesn't elude real feeling or an emotional connection with his music. See what he had to say about Ne-Yo below…
In the next clip Trey finally comes clean about past relationship with Lauren London, admitting they are great friends, and have been lovers.