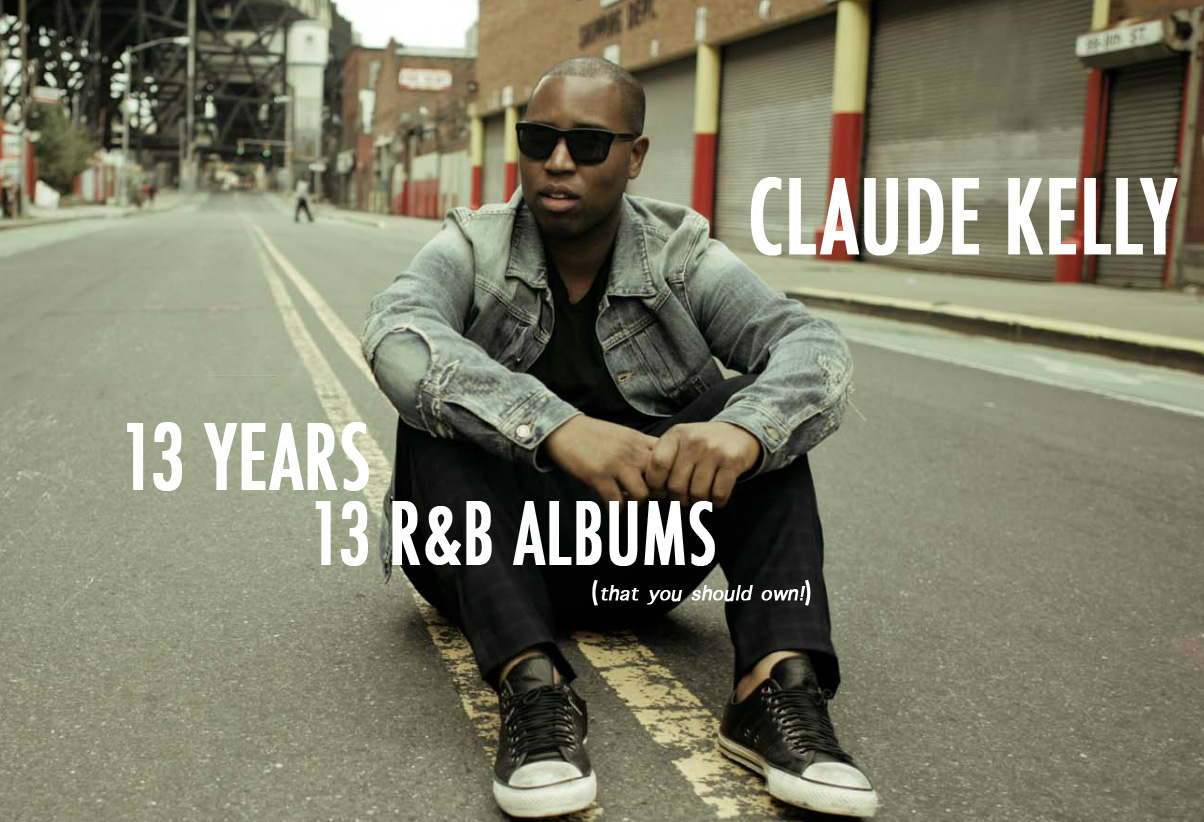 Last year, we caught up with hitmaking songwriter Claude Kelly for an in-depth and candid discussion on where R&B is at in today's music business. Though the struggle is still real when it comes to the Hot 100 chart and album sales, there is clearly a resurgence happening, and a new class of rising stars who are helping to make the beloved genre "cool" again. As an advocate for R&B, and as a strong contributor, Claude is nominated for "Best R&B Song" at the upcoming Grammy Awards for the third year in a row, the songwriter has shared his views on where R&B is at, and he lists his choices for the Top 13 R&B albums of the past 13 years!
Its 2013, and the debate about whether R&B is alive, on life support or dead is still very real. In my opinion, R&B is HERE…to stay. hasn't been in the forefront like it was in the 90's but great albums HAVE been released. Here are the 13 R&B albums (since 2000) that everyone should be familiar with…
Follow the jump to take a look at Claude's list…

1. Usher – Confessions
Complete in every way. amazing ballads, amazing club bangers, heart-felt mid tempos. quality vocals, soulful and honest as hell!
2. Brandy – Full Moon
The vocal bleuprint. vocal arrangements are perfect. Brandy is THE singer's singer and this album covers all the bases. don't you dare argue this…
3. Tweet – Southern Hummingbird
Under-rated in every way. the first single does this album no justice. please go back and listen.
4. Amerie – All I Have
Rich Harrison is genius for this. if you like Beyonce's 'Crazy in Love' THIS album was the catalyst. It has a the raw east coast flavor that makes a Mary J record hot, with the vocal arrangement of a Brandy album, and is still unique.
5. R. Kelly – Chocolate Factory
Sort of got overlooked due to his legal troubles, but this album is golden. R. Kelly is the most important black male artist we have since Michael Jackson. This album reflects his genius.
6. Rihanna – Good Girl Gone Bad
Established her a star. single after single after single. people are still trying to catch up. and people are still putting "eh eh's" in their songs because of it.
7. Amy Winehouse – Back to Black
Throwback perfection, but with the urgency and subject matter that was ahead of its time.
8. D'Angelo – Voodoo
A musician's masterpiece. period.
9. Mariah Carey – The Emancipation of Mimi
The comeback of all comebacks. those Bone Thugs-ish rhythmic phrases and pretty vocals are a winner.
10. India.Arie – Acoustic Soul
Incredible introductory album. R&B is famous for drum, bass. India made the guitar the sexy primary instrument. Most refreshing singer/songwriter alto since Tracy Chapman.
11. Justin Timberlake – FutureSex/LoveSounds
There is absolutely nothing wrong with this album. nothing.
12. Mary J Blige – No More Drama
For the title track alone. this was her "arrival" album. go watch her Grammy performance of this No More Drama. chills. she's the queen, she earned it.
13. Alicia Keys – The Diary of Alicia Keys
Quality soul. intelligent writing. You Dont Know My Name, Diary, If I Got You are real gems.
buy em, and enjoy…
What do you think of Claude's list? Anything missing??