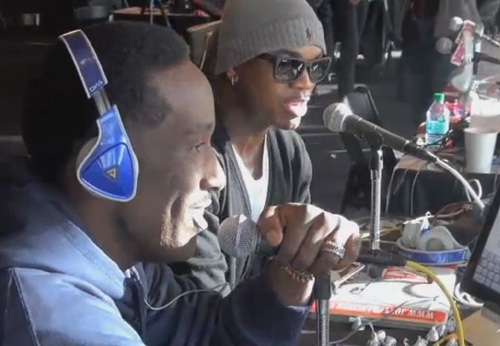 Ne-Yo & Boyz II Men's Shawn Stockman recently met at the Grammy Awards press day, and they sang each others praises. The R&B hitmakers met while doing interviews and shared their respect for one another to Hartford, Connecticut's Hot 97.3 morning crew.
"I am sitting next to one of the greatest songwriters of this generation," said Shawn Stockman. Ne-Yo returned the compliment by explaining that Boyz II Men was one of his biggest influences growing up.
"In high school I wanted to be Boyz II Men," Ne-Yo joked. "I was in a singing group when I was in high school and we would get together and do really, really terrible imitations of the songs. It was not as fly as they did it!"
Stockman laughed, "Our game only stepped up when we got a record deal! Trust me, if you saw any old pictures of us before we even got signed, it is ugly." Shawn Stockman knows how to make lasting music and he mentioned that he can see this same quality in Ne-Yo.
"There is no advice I need to give to [Ne-Yo]… He does what he does and he does it better than anybody," Stockman stated. "The only advice I would say is to keep doing your thing."
He continued, "I am not gonna lie, I don't like too many artists these days because I think a lot of music is homogenized and just processed music… [Ne-Yo] understands the history of music. A lot of artists don't really understand the history of music which is why [the music] doesn't sound like something that can last a lifetime. [Ne-Yo] writes the type of music that lasts a lifetime because he understands what lasts a lifetime. He gets it."
Peep the interview below…
[Hot97.3]