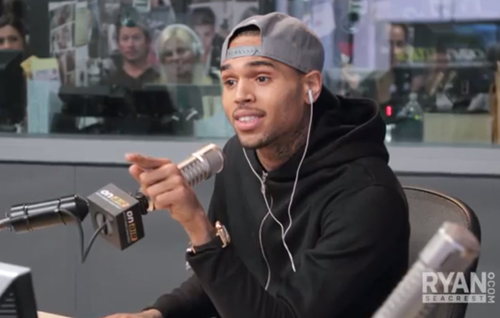 Following the earlier post on Chris Brown's recent listening session with MTV, where he talked about his new album, X, upcoming single "Fine China" and details on some of the albums upcoming songs, Chris paid a visit to Ryan Seacrest's radio show on Tuesday for a rare candid interview, where he discussed and cleared up a variety of topics. Including learning from his mistakes and growing as a person in the spotlight, the gift and curse of Twitter and Instagram, re-uniting with Rihanna, winning fans back, working with Jennifer Lopez, and he cleared up the story behind his fight with a valet over $10.
Chris also spoke further about his upcoming fifth album, the meaning behind the title, and revealed his plans to release multiple videos before the album drops. "I want to focus on the aspect of the directing side, and also focus on the album because we have so many songs, what I'm really trying to do it put out 10 videos before the album drops."
He also spoke about the concept behind the upcoming video for "Fine China," which centers around him dating the daughter of a leader of Chinese mafia The Triads.
Hear the full interview below:
For more info on the album, click here.