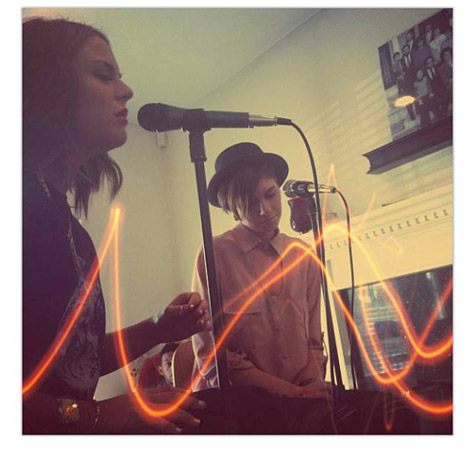 JoJo released her new mixtape "Agape" at the end of last year, and her large fan base have been eager for more from the singer. As she preps for more show dates and possibly a mini tour, JoJo offered her fans across the globe a chance to see her perform in the most intimate of settings. The 21-year old performed a mini-concert from her keyboardist's living room and broadcast it live online via Stageit.
She invited some of her musician friends/collaborators to join her, including Leah LaBelle and Austin Brown, and jammed for a 50-minute acoustic set. Viewers donated money and in exchange they were treated to past and present hits including "Leave (Get Out)," "Demonstrate," "Andre" (which she revealed the music video is coming soon) and "Marvin's Room," which she credits for changing the course of her career.
She also threw in a cover of Paula Cole's "I Don't Want to Wait," debuted the full version of "Thinking Out Loud," and dueted with her BFF Leah on John Legend's "Ordinary People" (Part 3).
"While I've been in this limbo, your support has literally kept me alive," a grateful JoJo told her fans before closing with "Too Little, Too Late." "I can't wait to explain everything to you. It's gonna blow your fu**ing mind when you hear what's going on."
Watch her full set below.
[RU]