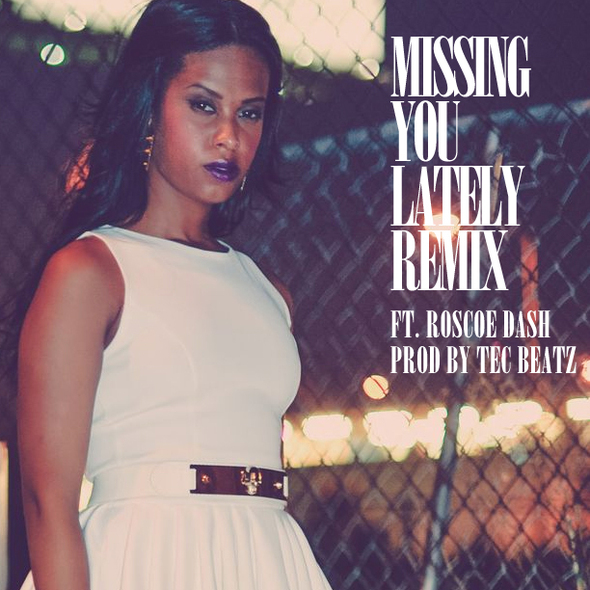 Jade Alston's "Missing You Lately" has received the official remix treatment courtesy of producer Tec Beatz, who gives the record a total production overhaul, replacing MPIII's airy pop track with a hazy, bass-heavy blend of trap percussion and swirling synths.
Southern rapper Roscoe Dash plays Alston's ex on the closing verse, reminding her of the explosive sexual chemistry they enjoyed when they were together.
Jade was recently diagnosed with a very serious heart condition Myocarditis, which is responsible for 1 out of 5 sudden deaths among young adults. After nearly collapsing during a performance the singer luckily found the issue early, and is currently healing. Now aware of her status, she can take the necessary steps to prevent the life threatening issue from causing future complications. She has written a heartfelt letter to her fans and supporters, thanking them for all their well wishes.
Follow the jump to stream and download her new remix, and read her note.
[DJ Booth]
Thank you for your prayers!!
To those of who don't know, I was recently diagnosed with a very serious heart condition called Myocarditis. There's a ton of info to be found online, but basically it's an inflammation/infection of the heart muscle that can cause irreparable damage. Statistics show that it is responsible for 1 out of 5 sudden deaths among young adults… and to be honest, I could have easily been apart of that statistic. I felt completely fine one day, and the next, I found myself in a hospital bed with doctors telling me that my heart levels were so bad, I could have been having a heart attack! It goes without saying that this situation has made me realize how fragile, unpredictable & precious life really is. If it weren't for almost passing out at the show I had that day, I probably wouldn't have known anything was wrong… and my illness could have progressed unnoticed. In many ways, one could say that my music saved my life. For that, I will forever be grateful. Music has been my greatest love and through everything, it still lives deep down in me, immovable in my heart.

It's been about a month now of exceptional recovery. But without the prospect of getting back to work, without all of you rooting for me, sending prayers and well wishes, I honestly don't know if I'd be in such good spirits. Learning to deal with the changes in my life and finding a new balance can be tough, especially when you've just been faced with the sobering fact that you could have died. I appreciate you all soooo much for that!!! Your support has been a God-send. (If I could, I would hug and kiss you all through this email! lol) I'm stilling taking it fairly easy but as my team and I get back to work, I look forward to making you all proud and inspiring you along the way! Life is too short to give up on any dreams and to not live 100% with joy in your heart. Trust me, this experience is teaching me that! Having a career in music is one of my biggest dreams! The pursuit gives me sooo much joy!! I look forward to continuing to share my journey with all of you, and all I ask in return is for you to LIVE IT UP!!! JUST PROMISE ME TO LIVE EVERYDAY LIKE IT MEANS SOMETHING SPECIAL AND I PROMISE TO DO MY BEST TO MAKE GREAT MUSIC!!!.

Thank you all again!! It feels good knowing I have a team that stays down!! lol ;)

xoxo
Jade