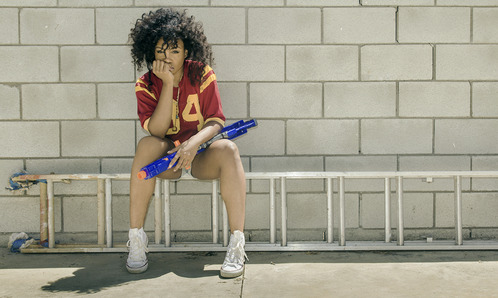 Following the release of her buzz-worthy 'S' EP from earlier this year, Alt-Soul songstress SZA surprises the ears of her growing fan base with the release of not one, but two new singles from her upcoming 'Z' EP.
The first record entitled, "Julia," is a heartfelt '80s jam she created with friend and producer Felix Snow. It's experimental, finding SZA toying with pop-sounds that have remained untapped in her catalog, yet she still keeps the integrity of her touching lyrics and emotionally charged melodies. The single sees a surprise transition at the end courtesy of producer Dave Free, which mellows out the track for those craving a jazzy fix.
Produced by teenage music prodigy WondaGurl, her second single "Teen Spirit" endows us with SZA's signature glitter-trap musings. Although a polar opposite of "Julia," SZA's hypnotizing voice (tricked out with plenty-o-reverb) and WondaGurl's chest-hitting production easily put both singles toe-to-toe.
Stream both new cuts below!