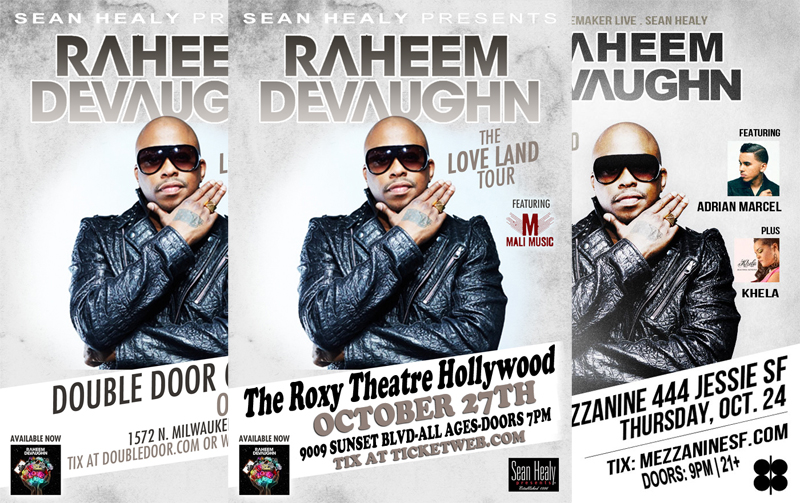 What's up all, it's time for a new ticket giveaway! Raheem DeVaughn is on the road promoting his brand new album 'A Place Called Love Land,' and he is coming to a city near you very soon on "The Love Land" Tour!
Throughout the month of October, Raheem will be traveling to perform in Chicago (at Double Door), Los Angeles (at The Roxy Theatre) and San Francisco (at Mezzanine), and we have an exclusive ticket giveaway to all three shows for some lucky ThisisRnB.com viewers! In connection with Sean Healy Presents, the singer will hit Chicago on Oct. 11, San Fran on Oct. 24, and L.A. on Oct. 27.
For those of you in either of the three cities, we are running a contest for each show. We have 2 pairs of tickets available for each night, and to enter for your chance to win, all you have to do is follow the instructions below…

Email us the answer to the question below, along with your full name and city of choice to "contest@thisisrnb.com" with the subject line 'Raheem DeVaughn.'
Question: In 2008, Raheem DeVaughn received his first Grammy nomination for what song?
Rules and Regulations:
2 Winners for each city will be picked at random from the email entries. They will be added to the shows guest list with a +1 for their guest. No additional access or transportation is provided.
The contest will run from today until Monday, Sept. 30 at 11:59 PM. Must be 21+ to enter.
Best of Luck!!