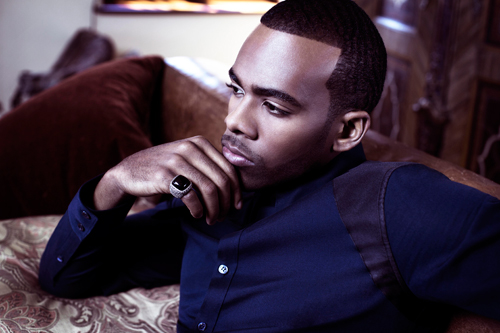 The R&B genre has seen some of the most talented names in music history. Whether the talent laid the foundation of a firm career or just breezed on by with a chart topper, you can't deny how much talent we've seen over the years. Many acts make their mark on the industry by sampling a song from a predecessor, or having a backing from some of the industry's top names.
A perfect example stands true with singer Mario and his 2002 debut single "Just A Friend," which sampled the hook from Biz Markie's famously known hit of the same name. The catchy remake introduced the young star – who eventually had all the boys courting girls by asking them to "Braid My Hair" – and pushed him into the world of superstardom. Easily one of R&B's most talented vocalists and most evolved individuals, Mario has given his all with every project he has released.
From his self-titled debut album, to his transition into a more mature crooner, Mario continues to find a way to give us everything he's got time and time again. Now, with his upcoming album 'Evolve' slated to be released this November, the Baltimore native is back and ready to take the music world by storm. With one buzz-worthy single "Somebody Else" featuring Nicki Minaj, already under his belt, and an impressive follow-up with "Fatal Distraction" garnering attention currently, fans can officially get ready for real R&B and authentic music to hit the shelves soon. With his busy schedule, ThisIsRnB was able to chop it up with the singer/songwriter about his upcoming album, the evolution of contemporary R&B, his new single and much more.
Check out our exclusive interview below:
When you went into creating this upcoming album, what was your thought process behind it?
Well, as I think back now, I was in a place where I wanted to create a new sound for myself and I felt like it was time for me to show growth and I wanted to challenge myself creatively – writing wise, production wise and the people I worked with. I wanted to just allow the energy of the room and the talents of those people to shine through as well and add my talent to it. A lot of the songs I did for this album are very orginial songs – nothing was really done outside of the moments that we all shared in the studio because I wanted it to be organic. I wanted it to all be you know, fresh and new. Maybe one or two songs were already written and I just you know, sang 'em my way. But, everything else was just organic man and I really enjoyed it. I think I learned a lot about just creating from scratch with this album. I think my fans will hear that. It's exciting because I already see the future of where I wanna go next. That could obviously change, but it's like when you experience something new and you enlighten yourself in a new way, it's always exciting for the future. So, really just going into this project, I was thinking about what's missing – what I feel like is missing from music and R&B – and where I feel like I wanna take R&B.
So the track "Fatal Distraction" was recently released and I love it. I think it's awesome. Would you say that's your favorite track from the album or is there another that you're more smitten to?
Um, it's one of my favorites. Hmm, wow…that's a great question. You know, I have favorites for different reasons. That's my favorite because it's the only track on the album that I actually sang like that – in my falsetto. It's teasing…it's a very teasing track. It's a very dark, sensual track and I'm conversing in this song, you know – a lot of the songs on my new album I'm conversing in. I love the texture of it. I love the vibe of that record. I love that the vibe fits the concept. Conceptually and vibe wise – artistically – it's my favorite track in terms of the record as a whole, definitely. But um, in terms of just pure music and vibe, I have so many other favorites. Another one of my favorite records is "Never Enough". This record was produced by Bam – he produced 3 or 4 records on my album. This record is real. It talks about you know, no matter how much you acquire in your career and in your life, no matter how much you get, the more you want. You know, the more you desire…it's never enough. No matter how many goals of yours you accomplish, you want more because you realize what you can do, you know. So, I would say that's one of my favorites because it's not a typical R&B record, it's not a typical subject matter for me to speak on. I tried to do that a few times on this album. Like, how do I write subjects and write R&B and do R&B in a way where it's not such a typical concept. Even with "Fatal Distraction," I kinda went that route. Instead of saying fatal attraction, we called it a fatal distraction. So, instead of writing from a love standpoint on "Never Enough," I decided to write from a real life situation where people can relate to. Then another one of my favorite records is the first record on the album. It's called, "Use Her." It's basically a metaphor for an addiction to this kind of love that you share with a person. I feel like it's definitely reminiscent of traditional R&B in a sense of the production side of the record. Writing wise, it's a little more eclectic than a traditional R&B record and I think that's how we bridge the gap with R&B. Sometimes, I think the reason why Hip-Hop is so successful and why it wins so much is because it's just so urgent. It's just like right now. With R&B, I think to make it interesting and to make people appreciate it on a psychological level, is to be a little more eclectic with it.
As far as the state of R&B currently, you know, you've been in the game for a while, so technically, you're considered one of the veterans. How do you feel contemporary R&B has evolved since the time you joined in up until now?
Well, I think there's been in between with me coming out and where we are now. There's been a few R&B artists that have come and gone. Sonically, you know, we're just in a different place with music and it's pretty much…if a label allows you the opportunity to have creative control, that's a huge thing these days. You know because most of the time, you have A&R's and these A&R's go out and solicit records to you for the album and you have to decide what you want to talk about because concepts are right or whatever, whatever. But now it's like if you're able to have creative control, then you're put in a position where you have to find the texture. You have to find the concept. You have to put the right writers and producers in the room. There's only a few artist right now that can really push the envelope when it comes to R&B or whatever you want to call it…you know, music. My thoughts [are] people like Miguel, people like Frank Ocean and you know, artists who are giving you something that hasn't been done, these are the people that push the envelope for R&B. They raise the bar in terms of conceptually and sonically. I love what Luke James is doing right now, you know. It's just really finding out how to make it relatable to our generation. For me, it's like I still have fans that are like 14-years-old. Then I have fans that are 35 and 40. So, at the end of the day for me, I try to give a well balanced, sonic experience to my fans. So, this is why I'm releasing another single called "LSD," which is more like a…it's more of a club record, but I'm still giving you R&B in the midst of it being a more energetic vibe. Whereas "Fatal Distraction" is more of a sophisticated alternative R&B record. I feel like R&B for artists, it's just finding that happy medium. Where you're still pushing and being progressive, but you're still giving the people what they want.
Totally. So, one of my favorite albums by you is the 'Go' album. How would you compare what you did for 'Go' to where you are now with this current album?
Um…what I was doing with 'Go', definitely it was more R&B than where I'm going with this album. I think the texture of 'Go' was a little brighter and I worked with more producers than what I worked with on this album. You have different types of production and it's not as consistent as this album. I would say that creatively and conceptually, this album is a lot more mature. I touch on different concepts and emotions with this album that I didn't touch on with 'Go'. So, I would say that it was a more R&B driven album, but at the same time, not as mature. This one's a little more mature and a little more R&B Alternative than that album.
Being that you've basically dedicated your life so far to R&B music, do you feel a commitment to stay true to a certain style?
Growth is imperative to me. I'm a Virgo. We love exploration, we love growing, we love challenging ourselves. Me as a man and as a recording artist who's becoming an artist – cause I feel like there's a difference between an artist and a recording artist. Artists are involved in every aspect of the creation and they evolve – which is why i call my album 'Evolve' by the way. I'm understanding now, being a veteran in the game and going through the process of four albums already, it's like OK, now I understand this gift. It really is a gift and it's a skill too. You have to massage it, you have to learn it, you have to study it, you have to continuously grow in it and not just enjoy the life of being a star. OK, that's great – the partying, the women, the traveling…that's great – but the art itself, you have to put work into that. So, I think years from now, after this album, you're definitely going to hear a different sound from me because I'm going to be in a different place. I'm going to learn more, I'm going to work with new people, I'm gonna want to express something differently than I expressed it before. It's going to feel differently than it felt before because I'm in a different place and my fans are in a different place and music may be in a different place. It's our jobs as musicians to continue to raise the bar and take something that's old and make it new again, but still keep it original. I definitely think you're going to hear different sounds from me for sure, for sure. Just like you will on this new album.
So does that mean that one day we could possibly hear a country music album from Mario?
[Laughs] Aye, you know what, I'm not opposed to it. I actually have country songs that are ready that I've done with different producers. I mean it's not on this album, obviously, but I've explored definitely.
Being that you are a true vocalist, do you still study as much as you did when you were first coming onto the scene? How often do you find yourself really critiquing a singer?
Uh, I study more, actually. And not just musically. I study a lot of different things. But music, I definitely listen to the production a lot more than just the voice of the artist or whatever. Now, I get into the production and the sound and the texture and who mixed it. You know, who shot the video and why did they use that color…like it's all of those things that I pay attention to because it inspires me. We're all artists in our own right and we all have something to offer, so it's important to see what the competition is doing and it's important to see what other people are doing. Even though we are all one collectively, but at the end of the day, it's important to stand out. Basically, offer something that isn't being offered. What's going to be different with my product than someone else product? What I feel like all music lovers are getting from me is a different texture, a different sound, a different feeling, and a different emotion when you hear my music. It doesn't make you feel like everything else feels. You know it's me when you come on the radio. Not being cocky at all – just saying what it is [laughs].
If you could give advice to any new act wanting to break into the R&B realm, what would you say to them?
Um, dig deep, man. I would say it's important to, again, find a place where only you can reside musically. Offer something that's not being given. And to find someone you trust to help you create it. Find someone in the room that you trust that no matter who you work with, this person is a part of it. Because sometimes as a creative individual, we can go off track because there's so much. To show that growth and to help you grow, you need people around you to tell you, "Nah, that's not it", or "I think this might be better – why don't you try this?" you know? It's like having that person to throw it back and forth to you. It's like a basketball game when you're warming up and you're throwing the ball back and forth – it's like y'all playing against each other. It's like sparing. It's like you need that – like a boxer has to pay somebody to spar with them. You need that.
What do you want people to take from this album? By the way, is there a release date for it yet?
We're coming in November. I know a few months ago we had October set, but November is it. What I want people to take from my album…wow. You know, I wouldn't just call it an album. I would call it an experience. I plan on touring in October and that's a huge part for me. Being able to do these songs live and bring 'em to life on stage and to have my fans feel me in a different way than they ever have, see me in a different way than they ever have. I'm working on the video for "Fatal Distraction" right now and it's a very emotional process for me because I want to show a side of me that I never have before and I wanted to be more vulnerable and heart wrenching. I just want people to feel me in a different way. So, I'm excited about the whole process of touring and people hearing more records off the album, and expressing it in ways that I never have before on stage. Getting an opportunity to perform on different platforms – from T.V. shows to awards – all those different things. For me, it's not just about the album itself, it's about the stuff that surrounds it. It's not just about the organs or the arms, the legs, the eyes…everything else. But more than anything, I want people to feel something. I want them to feel different emotions and I want them to feel like "Wow, music still gives me that feeling." Whatever feeling that is. I feel like you can hear a song and your best friend could hear that same song and you can be taken to two different places, know what I mean? I feel like music has a tendency to do that to people so you know, [I] just want people to enjoy it and know that music can still give 'em that feeling.
 -Interview by Ni'Kesia Pannell
Mario's new album 'Evolve' is due out this November, for more info follow him @MarioSoulTruth.