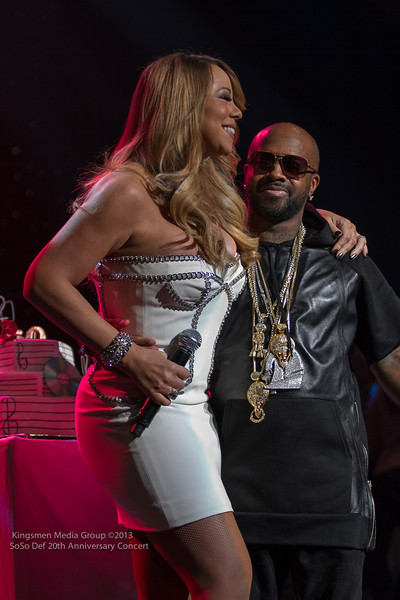 "We Belong Together" seems like a very fitting title, more than ever now. Mariah Carey and Jermaine Dupri have worked together for many years, created some of their best records together and won Grammys. Now, the close friends and collaborators are taking their relationship to the next level, as Dupri has signed on as Mariah's new manager.

Dupri broke the news during the A3C Hip-Hop Festival over the weekend in Atlanta. As we've seen over the past year, the two have been working closely in the studio once again, most recently they had a session with Nas, and were cooking together with Darkchild, Hit-Boy and Mike Will Made It.
Dupri's appointment as manager follows the exit of "American Idol" judge and musician Randy Jackson, who split with Mariah this past Spring.
"A multi-talented artist of Mariah's caliber should be doing everything imaginable. I'm sure others have said this but not the way I intend to do it. For me, it's about the execution," says Dupri. Carey adds, "We have a bond that surpasses music. I am super excited about our merger because we have so many innovative ideas that I know will come to fruition."
The two first found major success with Carey's 1996 Grammy-nominated hit "Always Be My Baby," which led to further collaborations including "Sweetheart," "The One" (off Charmbracelet), but nothing compares to their work on 2005's 'The Emancipation of Mimi,' which produced 6 tracks including "Don't Forget About Us," "Shake It Off" and the 2006 Grammy-winning R&B Song of the Year, "We Belong Together."
Dupri's top priority now as Mimi's manager will be to release her delayed 14th studio album, 'The Art of Letting Go,' which has already spawned the Top 15 hit "#Beautiful" featuring Miguel.
What do you think of their new union? Will it prove successful?