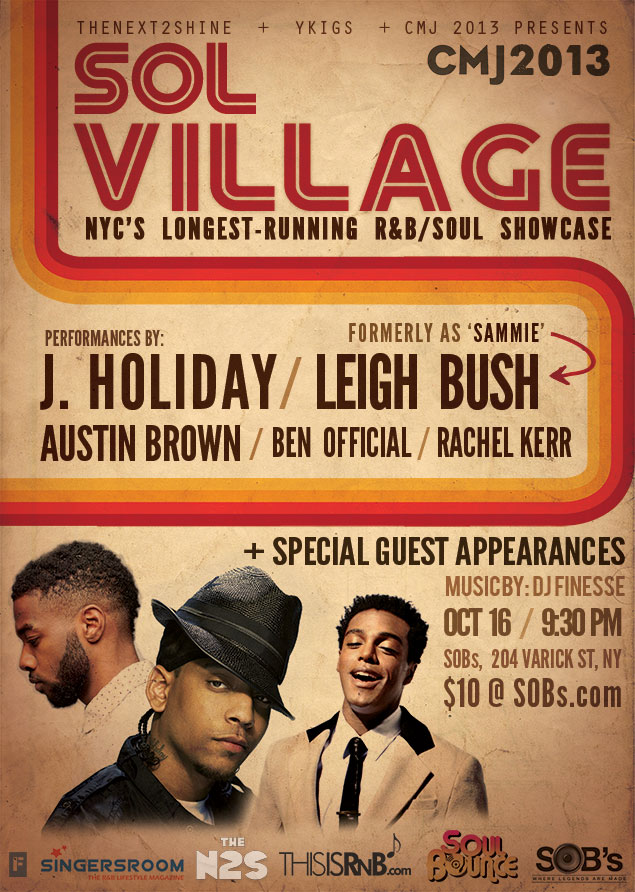 SOB's infamous "Sol Village" showcase will be returning on Wednesday, October 16, presented by our friends at N2S and YKIGS. This month's show is a special CMJ 2013 edition and will feature performances from J. Holiday, Leigh Bush (aka Sammie), Austin Brown, Ben Official and Rachel Kerr.
Over its 10 years, 'Sol Village' has featured artists such as John Legend, Musiq Soulchild, Erykah Badu, Raphael Saadiq, Common, Floetry, Dwele and more recently Luke James, Bridget Kelly, Allen Stone and Emily King to name a few. It has served as a cultural breeding ground from which young acts have broken into the next level of their careers.
Are you in the NYC area and want to check out these artists? We are offering 4 pairs of tickets to the show. Just email us at "contest@thisisrnb.com" with the subject line "Sol Village," telling us your 3 favorite artists right now. Please be sure to list your full name. Winners will be picked at random from the entries. Must be 18+ to enter.
UPDATE: The contest is over, but tickets are still available!