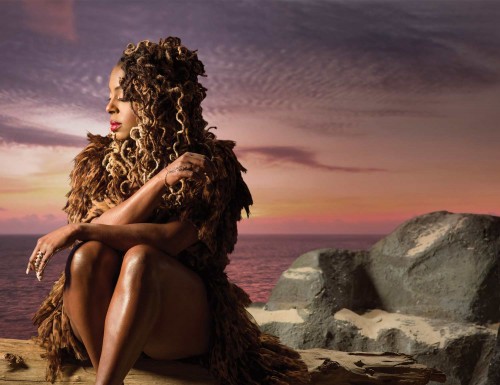 R&B has many different forms it can be seen and heard in. From your selection of "straight to the bedroom" cuts to the "sit and reflect on what I did wrong" sounds, there's a perfect R&B record to fit every mood. While many artists stay in one lane with their occasional slide into the next, you very seldom find an artist who can touch each side and own it every single time.
Grammy-nominated singer/songwriter, Ledisi, is one of the fortunate artists who can lay her vocals on any type of R&B track and find that success. Producing one of the most praised albums of 2011, the "Bravo" singer has been on the radars of fans since the early 2000's. With her latest single, "Blame You," it's no surprise why fans of all ages are always waiting on this talented beauty to release some new tunes.
Promoting celebration and positivity within her music, Ledisi is bringing true R&B back to the forefront of the industry. Making the type of music that you just can't help but smile and dance to, the New Orleans native isn't planning on backing down anytime soon. As she begins promoting her new album and single, ThisIsRnB was able to steal a little of the songstress' time to discuss her upcoming album 'The Truth', the current state of R&B, what she likes to hear from artists, and much, much more!
Dance your way into the interview below:
We've heard that your  new album is on the way next year, correct? 
Yes, it is.
And what's the title to that?
2-11-14, 'The Truth' will be released into the world [laughs].
Well, I'm excited for it. Why the 2 year span in between albums?
Usually, I guess that's about right for me [laughs]. Usually, it's longer. I had already finished. I think I finished in June. I was already done, but then I made a couple of changes later in the summer. But um, yeah it just takes a while. I think this was one of the hardest albums, but it was the easiest one to finish once I started on it. So, I had a good time doing it. But usually, it takes that long for me.
With this album, is there any particular song on here that you fancy more than the others? 
No, I love the whole thing. It's a body of work and I love the honesty on the entire project. I love the central part of it, I love the celebratory part of it about just being a woman and saying what you want – I always love things like that. I love that it's more uptempo than it is a lot of ballads like I normally do, so it's a lot of fun. I love this album, I really do.
Will there be any collabs on the album that we can look forward to? 
No collabs on this album. I did ask for a couple of things, but it just didn't naturally go there. I don't force anything – I let it just naturally move. In every aspect of it. Not just on the outside, but also when creating. So, it didn't naturally happen and I didn't force it and it just came out to be where it's just me all over it. I love the collaborations with the song writers and the producers though. I felt they did a wonderful job with it. Awesome.
Your last album, 'Pieces of Me', was a very great album. It was Grammy-nominated and you've received so much praise for this album. How would you compare the difference between the sound from the 'Pieces of Me' album to the upcoming album? 
Um, I wouldn't compare it ever. I think every album has its own place. I let people put me in their boxes and then I just stretch out the box for the next album [laughs]. Just when you think you're getting used to me, then I change up again. I'm a chameleon – that's what I do. I try to reach out to other audiences all the time. I'm always pulling for more people and it's not on purpose, it just happens to naturally be that way and it goes with what's going on with the time. I think we need more celebratory music and women should be empowered more and know it's okay to romance. I want romance to come back and go full out [laughs]. I like romance, so I'ma always keep that apart of it. And also, uplifting men as well. I'ma always keep that. So, this album I think is more intimate and focusing in on Ledisi's story. It's not so general – if I had to compare it – it's more intimate. I'm not hiding. That would be the only difference between the two, but it has its own box as far as genre of R&B. It's a little bit for the old and new – I always keep that too.
Touching on the subject of change, you mentioned that you're a chameleon when it comes to music. With R&B, the evolution of it has brought so much change. From when you stepped in many years ago, its definitely changed to where it is now. How would you compare R&B where it is now to where it was when you first started? 
I don't know, I think I still sound the same if not stronger. I can only focus in on my lane because when I start to go outside of that, then I get a little confused [laughs]. Categories are dangerous and I think back in the 60's or 70's, they didn't have so much of the categories. Marvin Gaye could go and do a Jazz song and just because he's an R&B artist, we would still call it R&B, you know? He went and did a country song on the same album as other R&B songs and we were OK with that. But now, as soon as we add a little bit of pop element to R&B, we go, "Oh, they're gone, they've sold out", you know what I mean? [laughs]. It's not fair. It's been going on forever – it's nothing new. People acting like it's brand new just because it's not a whole bunch of lick's in it. It's still R&B. The music might change, but I'm still singing R&B.
I definitely agree with that. We criticize a lot. 
The thing is, you have to keep progressing the music to keep the younger audience and the younger generation interested. But, you also have to cater to the grown folks too and that's me. I'm right in the middle because I understand both worlds and I'm OK with that. The grown folks get mad when you change it up, but there's a whole 'nother audience that wants to know who I am as well and I didn't know that. I used to ignore it on my first two albums. I didn't realize all the young folks were listening to me. Then I was like, 'Dang, I gotta cater to both of these generations.' So, there's something for everybody on every album, all the time. That's the lane I decided to cruise in – to be in the middle. Like it or love it or whatever, I'ma still be me. All of this is naturally me.
With the new slew of R&B artists coming in right now, are there any particular artists that have just come into the game that you are a fan of and why? 
Um, I like honesty. As long as they're honest. I haven't really focused in on anyone. I've been so focused in on my evolution that I haven't really had the chance to focus on who's coming in. I'll always enjoy Brandy and Beyoncé and Jazmine Sullivan. I just love honesty. As long as you're honest with yourself. I really love the Kelly Rowland album to be honest about it. I really loved her honesty on this album – it was great. And her voice. I mean, I haven't focused in on who's brand, brand new – I haven't done that. I had to worry about what I'm doing [laughs]. That took time. Working out and focusing in. But I applaud anybody who's being their natural self and ignoring people beating them down for it. Just go for it, commit all the way with confidence and have fun. Enjoy who you are…and that's what I'm doing. All I can say to the newer artists is just to have fun and stay in your lane and you know, give something back to others. Inspire others. We need more to inspire. Especially the women.
-Interview by Ni'Kesia Pannell
Ledisi's new album The Truth is expected to hit stores on February 11, if you haven't heard her new single "I Blame You" check it out now!