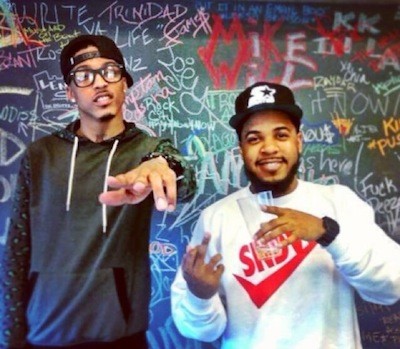 One of R&B's newest singing sensations, August Alsina, has been all over the charts since he dropped the Trinidad James-assisted single, "I Luv This Sh*t". Reaching the #1 spot on the Billboard Hip-Hop/R&B charts, the track is surely a hit because of August's song, melody and unique style, but what about the man behind the track itself?
Producer, Knucklehead, who has been known for supplying beats to trap artists such as Gucci Mane, Rocko, Ca$h Out and Alley Boy, tried his hand at something a little different. Thanks to a chance meeting with the then unsigned Alsina, the Texarkana (AR/TX native) created what is now known as his first #1 hit. "I Luv This Sh*t" climbed the Nielsen BDS-based Mainstream R&B/Hip-Hop airplay ranking over a 21-week span making the jump from #4 to #1, passing over famed artists Jay-Z, J. Cole and Drake.
When asked about the song, August stated:
 "I didn't know it would be this big. I knew it had the potential to be, but so much has got to be right to get here. What I did know is that I wanted it to be the first song that people heard from me, because it represents who I am."
Knucklehead though, knew from the beginning that this was destined to be a hit with fans. The producer says:
"After we finished the song, I went home and listened to it about 50 times. If I liked it that much, I figured other people would too. I knew we had a #1."
And a #1 hit it was. Not to mention that the remix, which features two of R&B's biggest stars Trey Songz and Chris Brown, has been very well-received from listeners all over. Describing the remix as an "unexpected blessing," Knucklehead said he had no idea that the remix would feature the two big artists.
"We had talked about so many people being on the remix and never once thought of an R&B remix, especially not with two of the biggest names in the game. Sometimes you gotta just sit back and let things happen organically".
Continuing on with the success he found with August, Knucklehead is also behind the tracks "Ghetto" feat. Rich Homie Quan and "Downtown" feat. Kidd Kidd, which are both found on Alsina's debut Def Jam EP, 'Downtown: Life Under the Gun'. Currently in the process of working on August's debut album that is set to arrive next year, we're sure we'll be hearing more from the talented hit-maker soon.
Congrats to both August and Knucklehead for grabbing their first #1 of many!