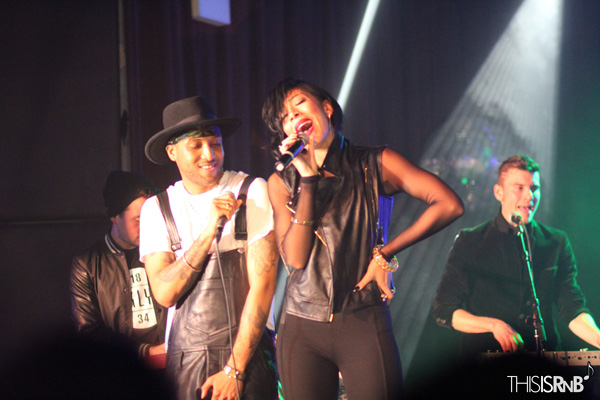 Last night a vision of ours came to fruition as burgeoning artist Ro James held his first headlining concert in NYC at Highline Ballroom.  The singer/songwriter was joined by fellow artists and friends, who are all united under the crew The Jackets, coming together to perform a jam session style show for a packed house of tastemakers and authentic music fans.
In addition to performing his debut EP 'Coke, Jack & Cadillacs,' Ro was joined on stage by the likes of Bridget Kelly, Luke James, Stacy Barthe, Asher Roth, Olamide Faison, Sonyae Elise and Melanie Fiona.
Follow the jump for our exclusive photos and a show recap:
Watch Melanie, Bridget, Luke, Stacy, Olamide and Sonyae joining Ro on stage to perform "Devil's Kiss" here.
Last night at the Highline Ballroom in New York City, burgeoning R&B artist Ro James established his prominence in the music game. A packed crowd of socialites, urban hipsters and music industry representatives were out in full support, grooving to the live jam session.

The amplitude of the event became evident as his live 8-piece band delivered a full, alluring blend of R&B, rock, jazz and soul influenced melodies. Ro James came to the stage performing his standout single 'Pledge Allegiance'. After welcoming his fans, he spoke about the completion of his EP trilogy 'Coke, Jack, Cadillacs'. He informed us that 'The Jackets' (the group of musicians he belongs to that includes famed artists Bridget Kelly, Luke James, Melanie Fiona, and newcomers Sonyae Elise and Olamide Faison) were in attendance to perform along with him.

The live band rejuvenated each track, breathing new life and sonic rhythm into each song. Singer/Songwriter Sonyae Elise was the first Jacket to appear, accompanied him as he sang the disclosing track 'X.I.X.'. Shifting into the 'Lisa' the crowd was amped as him and rapper Asher Roth delivered a hype, viscous rendition of the potent track.

Roc Nation's Bridget Kelly donned the stage alone to perform her debut single, 'Special Delivery.' The heartfelt lyrics and similar personal swagger made it clear why the two singers are friends. Ro then returned to the stage to perform two more songs from his EP series, 'Remind Me of Me' and 'Indiana Jones.' He continued his routine of the night, explaining a few lines of the meaning behind each track. His personality shined, aiding in the audience coming to understand the stories and demeanor of the person behind the performer.

The Grammy-nominated songwriter Stacy Barthe came to the stage and performed 'Flawed Beautiful Creatures' off of her 'P.S. I Love You' EP. The community, kinship feeling of the night was furthered when Ro introduced the audience to the crooning Olamide Faison, whose guitar performance enhanced the night's emphasis on true musicianship.

The crowd let go, screaming a few notches louder when Grammy-winner Melanie Fiona came on stage performing her new single 'Cold Piece' which ended in a Carribean-influenced breakdown paying tribute to her mixed West Indian heritage.

An edgier side of the Grammy-nominated artist Luke James came out when he performed his single 'Oh God' off his 'Whispers In the Dark' mixtape. The truly explosive, impassioned performance by the R&B crooner highlighted the comfortable feeling of freedom and individuality in the room.

The true friendship shared between The Jackets was apparent as they came together in a one-of-a-kind lively performance of Ro's single 'Devil's Kiss'. All of the night's performing artists came on stage as the night closed out with another performance of 'Pledge Allegiance' with each artist putting their unique textural spin on it.

The fact that all of these award-winning, Billboard-charting artists came out in full support of Ro James makes it clear. Ro James is on the map and here to stay.

Written by Tara Scudder of PeaceLuvHarmoni.com