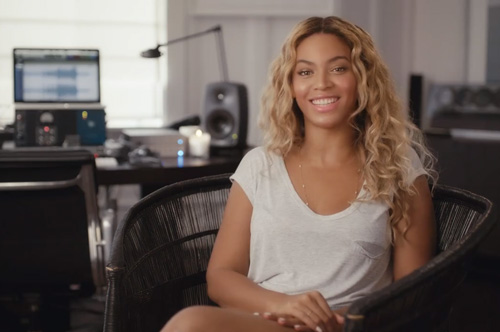 Like we told you before, if you're not interested in seeing Beyoncé shut down the internet for these next few weeks, you might as well stay far away from it. For as the album is still making headlines and the videos are slowly becoming available for everyone, the Queen of H-Town is giving fans a firsthand view of how she pieced her most creative body of work together.
In this clip, Bey discusses imperfection and disappointment. Taking it back to her first appearance on Star Search with the group Girls Tyme, she reminisces on the feeling of losing at the age of 9. Going on to state that "you're never too big to lose," she claims that it was the bases behind her creating the "Bow Down" track.
Clearly one of the most impressionable acts of our generation, the blonde bombshell also went on to say, "My message behind this album was finding the beauty in imperfection." Asking herself, "is it worth it," to make all of the sacrifices she did as a child, she becomes emotional when she says there's nothing like looking into her husband's eyes and hearing her child say, "mommy".
Take a look at the clip below to hear some more of her encouraging words: