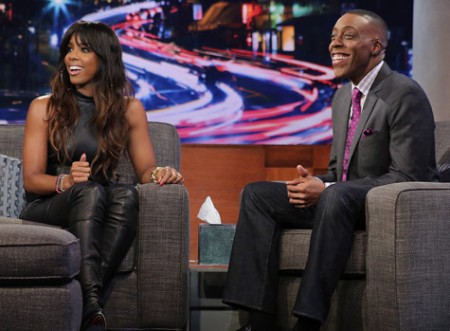 Although Kelly Rowland decided to air out a little "Dirty Laundry" earlier this year, the singer is keeping coy when it comes to her personal life nowadays.
While rumors have been swarming about her alleged engagement to manager, Tim Witherspoon, Kelly remained very tight lipped about her current relationship status during her visit to 'The Arsenio Hall Show'.
When asked about the picture of her and Tim leaving Jay Z's concert in L.A., the beauty gushed, "That's my best friend." She followed by saying, "You know what I will say… I am very happy and I believe in black love, man."
As the segment continued, Arsenio asked her about the ring that she's been seen sporting around town. Kelly responded by saying, "You stop it now. You know how private I am."
The ab-workout guru also touched on the subjects of her path vs. Beyoncé's, her stint as judge on X Factor and much more.
Check out the clips below: