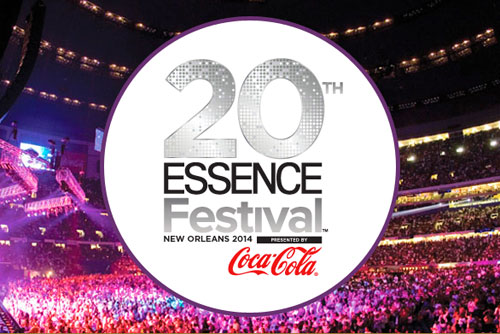 ESSENCE will be celebrating a major milestone in 2014, with the 20th Anniversary of the ESSENCE Music Festival! The annual concert weekend held in New Orleans will take place this year on July 3-6, and it is shaping up to be an epic occasion.
The iconic magazine has just announced the headlining act for this years festival will be none other than PRINCE!!

The definitive destination for entertainment, empowerment, inspiration and culture, the ESSENCE Festival last hosted Prince in 2004. This year, the ESSENCE Festival grew by 30%, with a record-breaking 540,000 attendees.
"Welcoming an artist as iconic as Prince back to the ESSENCE Festival for a 20(th) anniversary performance is incredibly exciting," said Essence Communications President, Michelle Ebanks. "The ESSENCE Festival is where we come together to connect to both our culture and our community, so we are pleased to support Prince and the Rebuild the Dream Innovation Fund in advocating for our youth."
ESSENCE and Prince will also support #YesWeCode, a special community initiative led by the Rebuild the Dream Innovation Fund's founder Van Jones, to encourage our young people to use technology and creativity to code. For more information about the Rebuild the Dream initiative #YesWeCode, visit yeswecode.com.
Additional performers and speakers for the 20(th) Anniversary ESSENCE Festival will be announced soon.To purchase tickets, get more exciting news, talent and program updates go to www.essencefestival.com.