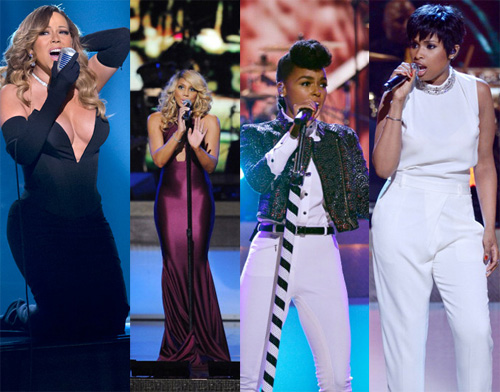 Last night, BET celebrated the outstanding achievements of African American icons at the 2014 BET Honors.  The event was filmed earlier this month at The Warner Theatre in Washington, D.C.
Many of music's biggest stars flocked to the nation's capital for the annual award show, which was hosted by Wayne Brady, and honored Aretha Franklin, Ice Cube, Berry Gordy, among others. The evening was graced with musical tributes from Jennifer Hudson, Tamar Braxton, Janelle Monáe, Smokey Robinson, and Karen Clarke-Sheard.
Mariah Carey performed her new single "You're Mine (Eternal)" for the first time, perched on top of a piano in a cleavage baring dress.
Tamar Braxton performed Diana Ross' "Upside Down" during a tribute to Motown legend Berry Gordy.
Jennifer Hudson celebrated Aretha Franklin with a medley of her classics, and Janelle Monáe brought the house down with an electrifying set of Jackson 5′s "I Want You Back" and "ABC."
And the Queen of Soul herself honored the late Nelson Mandela with "A Change Is Gonna Come."
Catch all the performances below!