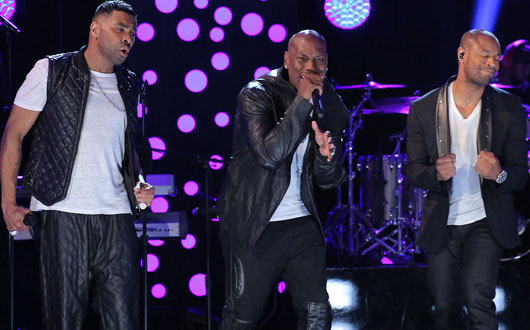 After an epic takeover by Prince, Arsenio Hall made up with his friends Tyrese, Ginuwine & Tank for having to cancel their last scheduled visit, and decided to make an event out of their return.
Well, it all went down Monday night when the gentlemen known as TGT returned to the show for a full-fledged takeover of their own! In a playful moment prior to hitting the stage, Arsenio made sure there would be no last minute changes this time by placing ankle monitors on the guys so they couldn't leave without alerting security!
The R&B super trio kicked off the show performing a medley of "Take It Wrong" and "Weekend Love." As the ladies in the audience were going crazy, they took a break from the stage to catch Arsenio up on what's been going on since their last visit, upcoming tour plans, and speak about the breakup rumor. But it got real kinky when Arsenio opened up the Q&A to the female audience, who asked questions like, what music do they play when they're ready to make a lady feel special? Who's single and looking? and more.
To close out the show, Tyrese, Ginuwine and Tank shut it down with an extra wild performance of "Next Time Around" and "Sex Never Felt Better." As a special treat to the audience for an online exclusive, Ginuwine took everyone back performing his classic hit "Pony."
This visit was not to miss, but if you did check out all the clips below!