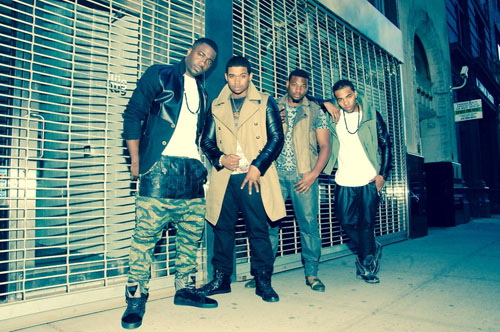 It's your resident R&B DJ, Trendsetter Sense back at it as we head into spring 2014! I recently had the pleasure of getting in the studio with my good bro Grammy Award-winning producer Bryan Michael Cox. If you don't know the name, you definitely know his hits because B. Cox has written them for everybody, including Mary J. Blige, Chris Brown, Usher and the list goes on and on.
B. Cox has teamed up with award winning songwriter J. Que Smith (another music heavyweight with major hits on Usher, Ciara, etc.) and business mogul Gregory Smith to form the company SCMG. Their first act hails from NYC with members repping Brooklyn, Harlem and Queens. This hot new R&B quartet goes by the name Gotham City.
Gotham City brings you that long awaited sweg (not swag)! If you didn't know, It's all about "sweggy" these days! My boys Gotham City are bringing it with a sound that's reminiscent of Jodeci's raw soul mixed with Dru Hill's crazy harmonies together with a 2014 twist on it.
Check out their newest joint called "Back to Love" below.
#Trendsetter!