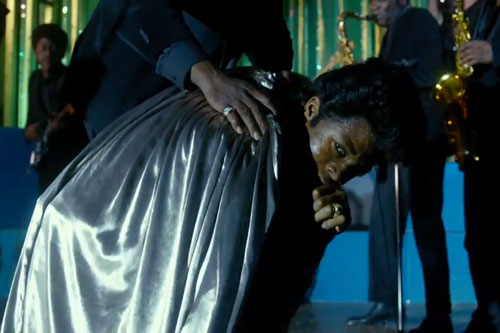 GET UP! Get on up, get on the scene…like a sex machine!
The wait is officially over! For those who thought that it would never come to surface, Universal Studios has finally delivered the trailer to the well anticipated James Brown biopic! Titled, Get On Up, the film is filled with an all-star cast that we're sure will do the story much justice.
Get the deets after the jump!
Starring 42 actor, Chadwick Boseman, the film is slated to hit theaters on August 1. Directed by Tate Taylor who is responsible for the impactful movie The Help, the biopic serves as an reenactment of the soul singer turned legendary performer's life. Surviving impoverished childhood days, the vocalist got his start during a short stint in Juvie when he put together a gospel choir.
Acting alongside Boseman in the film will be Tika Sumpter, Jill Scott, Viola Davis, Octavia Spencer, Lennie James (Walking Dead), and Dan Aykroyd with appearances from many more. Co-produced by Mick Jagger, the film will also feature actor Nick Eversman portraying his character.
Sitting down with Rolling Stones last year, daughter of James Brown, Deanna Brown-Thomas stated:
"Daddy was hardly looking for anybody to do his life story," she said. "He was flattered, but it wasn't like he was super-excited about it. He wanted to make sure that these things that came out that weren't so great wouldn't look so bad."
From the looks of the almost 3 minute trailer, the biopic was done in good taste and hopefully would've put a smile on the soul machine's face.
So what are you waiting for? Get up offa that thing and check out the trailer below!