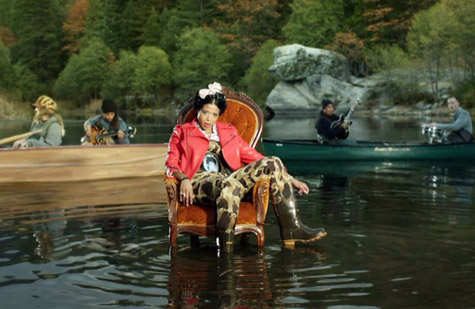 Well here's something…different.
In what seems to be true Kelis fashion, the former Mrs. Jones is back at it again with a visual to her track, "Rumble." Found on her upcoming album, FOOD, the song will serve as the second single lifted from the well anticipated project.
Dressed in a camouflage jumper, red leather jacket and muck boots, the eccentric singer sits atop a throne like chair in the middle of a lake. Performing the entire piece from her chair, the Duck Dynasty or Swamp People inspired clip has some interesting characters floating around in the background. From those playing instruments to a few just trying to catch their dinner, Kelis doesn't bat an eye while cooing her way through the song.
Arriving in less than a month, Kelis' menu driven album FOOD will be nothing short of interesting to hear to its entirety. Until then, dive into her latest visual for "Rumble" below!