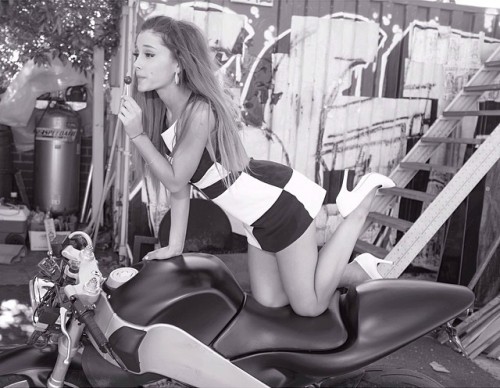 Well, well, well…aren't we all grown up!
Looking every bit of her age, Ariana Grande is putting her flared skirts to the side for a minute as she readies her sophomore album, due out this summer.
Shot in black and white, the beautiful 20-year-old singer fired off a few promotional shots for her upcoming masterpiece in the works. Seen posing on a motorcycle with a lollipop hanging from her lips, the "Almost Is Never Enough" songstress is turning on the charm and more so, the sexy!
Taking to Twitter, she stated:
"been doing lots of experimental shoots lately for upcoming music, wanted to share some shots.. sorry for the late 60s timeline invasion haha"
Keep 'em coming, girl…keep 'em coming.
After seeing these shots and hearing a few previews of her music, we're definitely geared up for its release in a few months.
Take a look at the additional pics from her stunning shoot below: