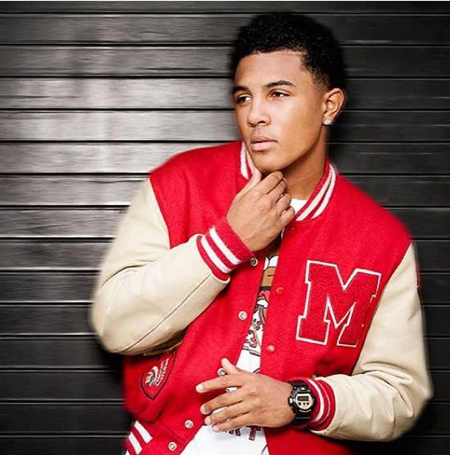 Hearing one of your favorite songs from your childhood being remade as an adult can often cause a riot in the dedicated fan. As music lovers, we have a tendency to want to preserve the originality and initial feeling that we get from a song that we've grown to love. Hearing it remade to fit the current times can take us on a whirlwind of emotions and usually, that involves a few derogatory remarks as well as ugly facial expressions.
Going against the grain and creating a remake that the new and old-schoolers can love, 17-year-old Anthony Lewis is on his way to the top of the charts. Releasing his version of the Soul For Real 90's smash hit "Candy Rain," the young California native is no newby to how the industry moves. With both of his parents having names for themselves as singers from the '90s era, it was only natural that the buzzing star followed the same path. Now going all out to make his dream become a reality, Anthony Lewis has been doing all that he can to hone in on his skills as a multi-talented artist.
We recently spoke with the heartthrob-in-the-making about his journey thus far, what fans can be expecting from him, how he approaches a lady and more.
You'll fall in love with all that the singer has to offer after reading our interview with him. Get to know Anthony Lewis below:
How has the newfound fame been treating you so far?
It's definitely a new experience that's happening to me. So, it's really a blessing that my music and stuff is getting around…it's definitely a blessing.
You're 17, right?
Yes, ma'am.
How has that been with your friends and family members? What type of response are you getting from them?
The response I'm getting from my friends – basically they told me the other day, "Man, I love you, bro," and I'm like 'Why did you say that?' They told me, "Because you haven't changed man. I thought being famous would change you." I told them that I'm always gonna be the same because I just feel like fame and money shouldn't change you. I just know it's not gonna change me. So, it was definitely a compliment that I got from my friends that I haven't changed because that's something that I definitely do not want to do.
You grew up around music – your father was in Az Yet. How was that experience and what role has it played in you taking on music now?
It's definitely a great experience and I got to travel the world with my father. I got to see the way he interacted with the fans and the way the fans interacted with him and the group. It was a great experience because – and my mom sings too, she was singing with my dad – just to see both of them killing the show, giving a great performance to their fans, it showed me that's what I wanted to do. Growing up around music like that just blessed me. I told my mom around 13 or 14 that this is what I wanted to do. I watched you and my dad do it, so why don't I just take on the family trend? She said we should try to make it happen. Two years later, I met with Garnett March – the executive at Chemists – and there it is. That was definitely a blessing right there.
Yeah, I agree. That's incredible. Are you an only child or do you have siblings?
I actually have a lot of siblings [laughs].
Are you the only one that chose to go this route?
My dad and my mom have different kids. My dad on his side, he has his kids and then it's just me, my mom and my three other sisters. They're all older so they do hair, chef…all of that. So, it's mostly just me that really wanted to take this route.
Other than your parents, who have some of your influences been that placed you into the sound and style you're in now?
Definitely Chris Brown, Michael Jackson, Usher and Justin Timberlake. They're such great artists. When I was growing up, they were coming out so it was definitely one of those moments when I knew this is what I wanted to do. Honestly, it changed my life. Seeing my mom perform then seeing Chris Brown come up, then seeing Justin Timberlake come out with "Cry Me A River" and all of that…it was just amazing.
The Teen R&B scene has quite a few acts out right now. The issue always arises when it's time for them to crossover into a more developed crowd. Although you're only 17 now, how do you plan to stand out and bring something new to the industry when that time comes?
One thing about me, I'ma always stay young [laughs]. I'm always gonna keep my music young. I'm gonna keep staying younger and younger until I hit that point where people say, "Anthony Lewis ain't no lil boy no more – he gotta start talking grown." But, not the type of grown to where you talking, "bring it over here" and all of that. Really just talk about that young love and what people go through every day relationship wise. Stuff like that so people can relate to it.
Tell me what kind of styles and sounds you're into currently.
Definitely R&B and Pop…and  little bit of Urban. I definitely like that type. I feel like it fits me and my category with other artists. I just feel like it fits me. I'm just trying to make a change for the game and I hope that happens.
What would you call your sound? Would you call it R&B?
Honestly, I would call it R&B, but I would really call it A. Lewis music. It might sound funny, but I call it A. Lewis music because it's expressing me. It's really no type of sound. You guys will take it as R&B, but I take it as A. Lewis music. The life of Anthony Lewis. It's giving the real Anthony Lewis.
Let's talk about the new single, "Candy Rain". We caught the performance on 'Queen Latifah' and you did awesome for your first televised performance. How did you decide that this was the song that you were going to lead with?
It definitely wasn't the song that I chose. The team actually chose it together. We were in the studio and Garnett March came in with the record and said, "I want you to listen to something." The whole team was all nod's. Everyone thought it was crazy. I like old school music so you know I'm definitely hyped about that. But when he played it for me, I was like 'We gotta record this ASAP – let's do it!' The next day, they recorded it and played it for some more executives at the label to see what they felt about it. They said it was crazy. So, we all just agreed that this would be the first single to lead with.
It's a good remake – I can definitely say that. What made you guys stray away from the original and add Billy Bang's rap verse on there?
It would add a certain flavor to it. I looked at Chris Brown's "Run It" and those artists and how they put a rapper on there. Billy Bang is signed to the label too and he's an incredible rapper – dude is dope. So, we all thought let's get Billy on there. He killed the verse and from there it was nothing but magic that happened. It was definitely a win for me.
What's coming next for you? Is there another uptempo song to follow this?
All I gotta say is just watch and see…it's coming real soon. I think it's gone shock y'all.
How is it trying to balance school and your career?
It's definitely a lot easier now. When I first started I was in high school and it was real difficult because I had to go right to the studio after school and then gotta get back home around 10 or 11 to do my homework. That wasn't working out. So, the team decided we'd put me in home school. Now, I have school in the morning until 2 and from 2 all the way until that night, I'm working in the studio building my craft. It's definitely a win/win right now.
If you weren't singing and building your career, what would you be doing now?
I would definitely be playing sports. I'm a basketball head – I love playing basketball. If I wasn't making it in basketball, I would go to college and be a real estate agent or something.
You sing about love and "Candy Rain," but are you in a relationship right now or are you more so focusing on your career?
I'm more so focused on my career right now, but the relationship…I wouldn't mind having. I'm a lover not a fighter [laughs].
What would be the perfect date for you? How would a girl catch your attention?
Man, there's just so many ways [laughs]. If I'm out somewhere at the mall and the girl just walk past me looking real fly, just being herself and she gives me that one look…I'd be like, 'Hey…oh, what's your name? Oh, Jessica? OK' [laughs]. I just like the ones who like to be themselves. That's one way that they'll catch me.
Do you have a current celebrity crush right now?
[Laughs] I'm really gonna have to say Zendaya.
She's a cute girl. I could see why. Is there anyone that you want to meet and perhaps collaborate with?
Justin Timberlake and Usher – just to really meet all the great ones so they can tell me the story behind their brand and tell me what not to do and what to do. Just tell me how to keep a career and own my craft, you know? Just really telling me how to do music an own my craft, really.
The past three years have been crazy for you, I'm sure. So, if you had any advice to give to anyone, what would it be?
Stay up on it and keep God first – and really work hard. Once you keep all three of those in tact, I promise God will bless you in every way possible.
What can we expect from you this year and what do you hope to accomplish throughout your career?
You can expect great music from me this year. What I want to accomplish is definitely performing at the Super Bowl. That's the second dream that I have.
When can we expect a full album or EP?
Probably top of next year.
Whose album are you looking forward to picking up?
August Alsina's 'Testimony' album. I've heard it's bangin' so I have to go ahead and go cop that.
– Interview by Ni'Kesia Pannell
For more info check Anthony out at www.myanthonylewis.com.