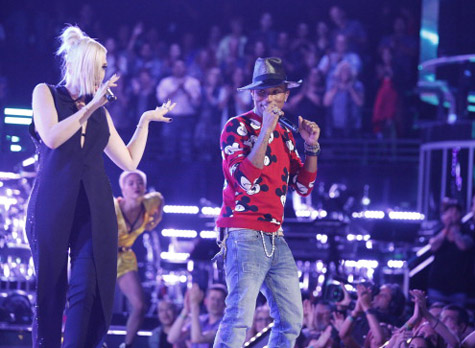 Ahead of their stint as the next coaches on NBC's hit series 'The Voice,' longtime friends Pharrell Williams & Gwen Stefani took the big stage to show contestants just how to own their talents.
Performing Gwen' s 2004 hit single, "Hollaback Girl," the duo made us feel like it was our first time hearing the beat drop. Dressed in a red Mickey Mouse sweater and new hat, Pharrell joined Gwen on stage midway through her performance.
Also performing his latest single, "Come Get it Bae," from his sophomore album G I R L, both artists received standing ovations from those within viewing range.
Fans of Gwen and Pharrell can catch them both as Cee-Lo and Christina Aguilera's replacements on next season of the show. Until then, take a look at them rally the crowd below!