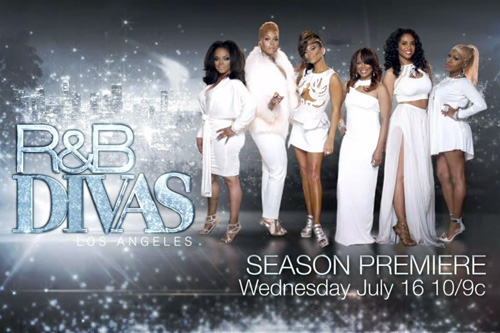 TV One's hit television series R&B Divas is rolling out the carpet for the LA Divas and its sooner than you think! Revealing today that Season 2 is right around the corner, fans can rest easy knowing that their summer will be packed with the drama.
Catch more after the jump!
Hitting your screens on July 16 at 10 pm, the one-hour premiere of R&B Divas: Los Angeles is sure to be the start to a season filled with ups and downs. While we previously announced that there will be a few changes in cast members, the 10-episode season is sure to not disappoint.
Featuring original cast members, Chanté Moore, Lil' Mo, Claudette Ortiz, and Michel'le, the sophomore season will also bring on R&B songstresses Chrisette Michele and Leela James to tell their stories in front of the world. Following the every day dwellings of all six women, this season will also show the stars collaborating on writing a song for the Puerto Rico tourism board with the goal of performing it live at Carnaval de Poncé.
If fans remember correctly, last season involved a huge blowout with former cast member, Kelly "I'm Booked" Price and the play she was attempting to put on. Hopefully with the new changes in members, this season will fare better than the last and keep the ladies looking good in the light of the public. Either way, we're sure it'll make for great TV.
Until then, fans can catch the R&B Divas: Atlanta installment on their screens now, every Wednesday at 10 pm!