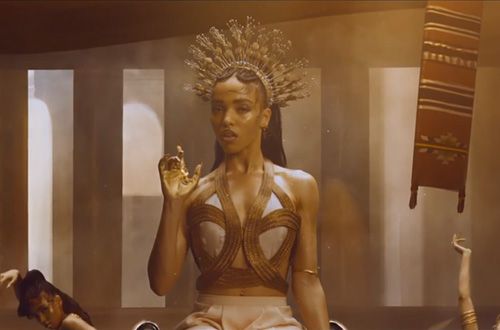 Making her first appearance on the site, FKA Twigs has mostly been a darling of various indie and hipster based sites since last year, as a face of the Alt-RnB movement.  The British artist who real name is Tahliah Barnett, and uses FKA for "Formerly Known As," catches our attention with the new single and accompanying visual "Two Weeks."
Set to a theme of an Egyptian princess or almost Queen of the Damned liked character, Twigs captivates in the Nabil-directed visual. Sitting on a golden throne, the 26-year-old delivers soft yet intoxicating vocals, which gradually soar over the atmospheric, synth-heavy production. As the camera slowly pulls back, a group of performance art dancers are revealed, who deliver silky moves while birds are seen flying through the background.
This is quite the introduction to her forthcoming debut album which is simply titled LP 1, due out August 12.
Check out the single/video below!