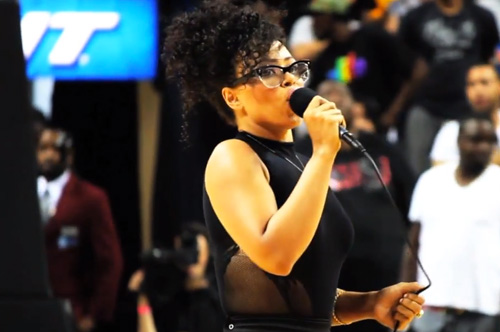 Elle Varner is getting ready to return with her sophomore album, so she has started making her appearances and promo performances. This past Sunday the soulful songstress helped kick off the EBC America Celebrity Basketball Challenge at Brooklyn's Barclay Center, by singing the National Anthem.
"I put some flavor on it. Everybody's heard the song a million times, so I did my thing. I had fun," she told TrueExclusives following the performance. Additionally, Elle shared some info on her upcoming album.
"I'm making a very positive shift in my career with this album," she said. "It's all about artistry and being authentic and the message. It's more soulful in the sense that you feel it in different ways."
Earlier this month, she debuted her new single "Don't Wanna Dance" featuring A$AP Ferg. Her sophomore album 4 Letter Word is due out this fall.
Check out Elle's patriotic performance below. How do you think she did??