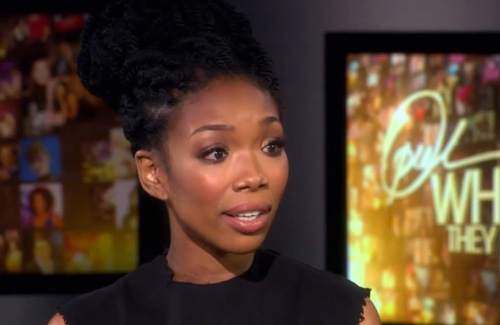 On Sunday night Oprah welcomed special guest Brandy to her show 'Where Are They Now?' on the OWN Network. The special interview was promoted with a clip that showed the R&B songstress addressing a "big fib" she once told the TV host.
As many guessed that statement was about her alleged marriage to producer Robert "Big Bert" Smith, who is the father of her daughter Sy'rai. During their discussion Brandy opened up about the decision to lie on national television once again. "I was scared, I thought that everything that I had worked hard for and everything that worked hard to build, the image that I worked so hard to build to threatened," explained Brandy.
Additionally, Brandy talked about what having a daughter taught her about her self, and shared a tough decision she had to deal with as a mother. She also shared with Oprah her struggles to get through the pain of the tragic car accident that she was involved in. "I don't think that's something I could ever get over or ever truly understand," said Brandy.
Along with her personal life, the singer spoke to Oprah about her relationship with Whitney Houston. "She's definitely one of my angels," shared Brandy. She also spoke about her brother Ray J's connection with Whitney and helping him deal with the loss.
If you missed the episode last night check out the clips below: