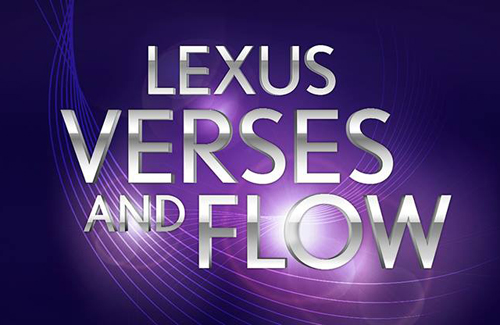 TV One and Lexus have announced the return of their NAACP Image Award-nominated variety show Verses and Flow, premiering Saturday, August 16.
The eight-episode season will feature R&B stars Maxwell, K. Michelle, Joe, Johnny Gill, Ruben Studdard, Candice Glover, Gary Clark Jr., Sebastian Mikael, Leela James, Anthony Hamilton, Alice Smith, Mali Music and more than 25 of the best up-and-coming spoken word poets.
The first show of the season will feature Maxwell as the headlining performer, and air Saturday, August 16 at 10pm EST on TV One.
Taking the helm as host is Laz Alonso, who recently reprised his role as Fenix in the mega-hit feature film, Fast & Furious 6.
"At Lexus, we are dedicated to giving artists platforms to expose their craft. We created Verses And Flow to offer these talented poets and R&B stars a high profile space to gain visibility with the broader audience they deserve. Season Four is especially exciting because this year we present a fresh new look with a brand new studio and host. In addition, we are happy to partner with ICON MANN showcasing poetry by some of the most highly regarded actors in the Black community," said Brian Smith, Lexus Vice President of Marketing.
"Verses and Flow continues to amplify and deliver on TV One's commitment to showcasing a wide spectrum of remarkably talented artists," said Maureen Guthman, SVP of Program Strategy and Acquisitions for TV One. "Bringing together today's iconic musicians and preeminent spoken-word artists on one stage presents a narrative that is as inspiring as it is entertaining. "
This season will turn the spotlight on the inspirational work of ICON MANN, an organization that aims to generate a positive dialog surrounding Black men doing positive work in their communities through their contributions in entertainment, business, and Fortune 500 industries committed to philanthropy and public service.
Verses & Flow 2014 Schedule:
August 16 Maxwell accompanied by Adam Blackstone with spoken word artists Miles Hodges, Chiara Richardson, Malcolm-Jamal Warner and the celebrity participants of ICON-MANN
August 23 Johnny Gill, and spoken word artists Treesje Powers with Rudy Francisco, Breeze "I Life This" The Poet and Joe P.
August 30 K. Michelle and spoken word artists Rage Almighty, Rob Gibsun and Ramya Ramana
August 30 Leela James, Anthony Hamilton and Sebastian Mikael, with spoken word artists Michael "Chief" Peterson, Tonya Ingram and Deonte Scott
September 6 Candice Glover and Mali Music with spoken word artists "Tim Toaster Henderson," Phenomenon The Poet and Black Ice
September 13 Joe with spoken word artists DDE The Slammer, Obbie West and Lady Caress
September 20 Ruben Studdard with spoken word artists Jasmine Williams, Jive Poetic, Joshua Bennett with Zora Howard
September 27 Gary Clark Jr. and Alice Smith with spoken word artists Philosophy, Pages Matam and Katelyn Lucas
(Photos via Lexus)