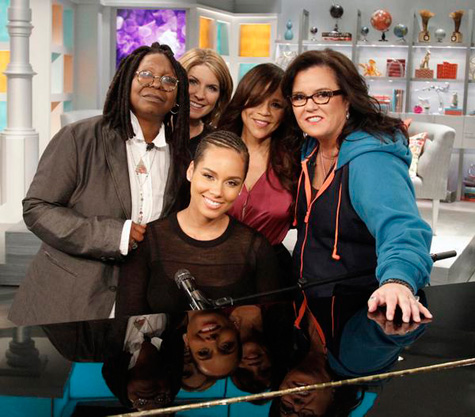 Following her performance at the Global Citizen Festival on Saturday, Alicia Keys stopped by "The View" on Monday to promote her new single "We Are Here" and the We Are Here Movement. During her chat with the ladies, the glowing singer revealed that her second child is due December 31.
"Being a mother has definitely given me more of a fierceness and understanding," said Alicia.
Her peaceful anthem was inspired by recent events including Trayvon Martin, Mike Brown, and the Middle East conflict. "It's a movement of the people so that we can gather our voices in one place and then take all of our voices to our leaders and demand the change that we want to see."
Alicia recently posed naked with a peace sign on her belly to promote her message, and encourages others to sign up at WeAreHereMovement.com.
She capped off the show with a powerful performance of "We Are Here." Check it out below!