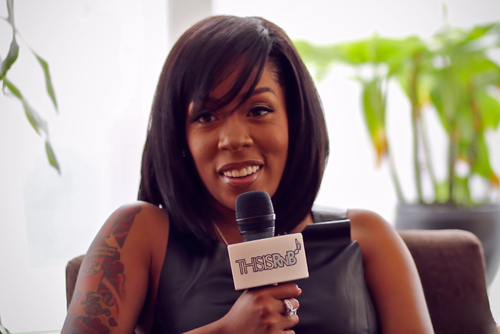 K. Michelle is one of the most charismatic and boisterous artists that we've had in R&B in quite some time. The Memphis native is wasting no time on the follow-up to her debut album Rebellious Soul, which she recently revamped as an inventive TV musical for VH1. While her debut LP hit stores only a year ago, the talented singer/songwriter is putting the finishing touches on her sophomore album, which she has been teasing with the hashtag #AWBAH.
Earlier this month K released the first single from the project, "Love 'Em All," which surprised many with it's rock heavy production, but has been acclaimed and praised by many fans and new listeners for it's catchy and confident theme.
ThisisRnB TV recently caught up with the R&B songstress for a sit-down interview about her new records, upcoming album and much more. In this clip from our chat K. Michelle talks to us about where she was mentally when creating her new singles, "Love 'Em All" and "Maybe I Should Call," the major differences between her upcoming album and her debut, her Country music influence, the album's unexpected collaborations, and why it was so important to take some risks with her new music and this project.
"I looked around and I was like, 'why should I be boxed and forced to sing a certain kind of lonely girl I'm so hurt, cuz I'm the little lonely black girl who had to struggle' [type of song]," said K. Michelle. "Who wants to sing that all their life and be miserable all their life, there's other sh*t going on other than heartbreak. I was just determined to talk about all those topics and sing 'em how I felt 'em, not how people look at my skin tell me how I'm supposed to sing them."
"If you're gonna go out, go out with a bang," she continued. "If the fans get it that's all that matters."
Check out the interview below, and stay tuned for her second new single "Maybe I Should Call," followed by the official video announcement of her new album.