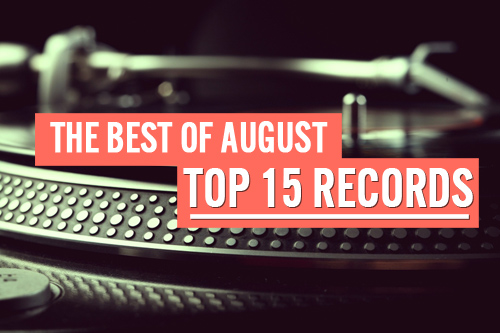 With summer unfortunately coming to an end and cooler weather around the corner, that means nothing more than a change of pace in music. While the hotter months tend to bring with it uptempo beats and plenty of songs to dance to, fall brings with it the songs that make you want to warm up close to someone special.
Although it's not quite fall yet, a few of our choices for this month's list say different. From the coo's of Usher in his brand new single "Believe Me," to the incredible sounds of Angie Fisher singing about the "I.R.S.," our Best of August Top 15 list will have you ready for the cool out music that the new season is destined to bring.
Check out who made the cut this month below!
Usher – Believe Me
While this past week served as an awesome one for megastar Usher, it's only right that we have him kick off our list this month. Releasing his Mike Will Made It produced single "Believe Me," the veteran crooner slows it down as he cries out to his lover. Prepping us for what we know is going to be a great album, he continues to make us believe just why he's known as one of the best in the game.
Tinashe feat. A$AP Rocky – Pretend
PYT Tinashe gets us ready for the fall with her new single "Pretend."  Following her break-out party anthem "2 On," the Cali beauty takes it down a notch with the A$AP Rocky featured song. Produced by Detail, the new mid-tempo single will be found on her debut album Aquarius, due out Oct. 7.
Jasmine V feat. Kendrick Lamar – That's Me Right There
Singer Jasmine V is all grown-up and she's ready to let it show. Dropping her Kendrick Lamar assisted single "That's Me Right There" last month, the gorgeous songstress is moving her way right into our hearts. Yet another Cali girl doing big things, J's single comes ahead of her upcoming EP, which will feature contributions from the likes of Ne-Yo, Problem, Jeremih, Harmony Samuels and more.
Luke James – Dancing In The Dark
If there's one person who can almost do no wrong in our eyes, it's talented singer Luke James. While LJ's year has been going pretty great, the release of his self-titled debut album will make it that much more exceptional. Found on the September 23 release will be his latest single, "Dancing In The Dark" and we can't wait. Filled with retro sounds from the '80s, the newest single is nothing but greatness waiting to be uncovered.
Elijah Blake – You Are My High
Coming in next on our list is another exceptionally talented artist known as Elijah Blake. Known for having one of the sweetest voices we've ever heard, the singer proved just that on the song, "You Are My High (Presidential Pt. 2)". Lifted from his Free Pt. 1 EP, Elijah's vocals on this track alone has us anticipating his new EP 'Drift,' due out this fall, and his debut album Songs About Melody even more.
See more on Page 2