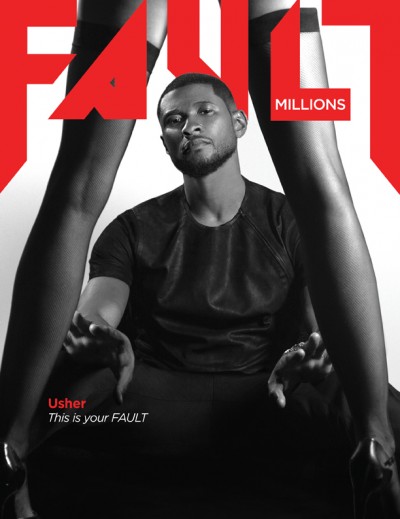 Usher just continues to make the ladies drool every chance he gets and we're not mad one bit.
While the news of his tour The UR Experience – which features August Alsina – made every woman in America flip their lid, his spread in the new issue of Fault Magazine has done just the same.
Titled "The Millions Issue," the magazine will give us a firsthand look into the life and mind of the R&B superstar. Shot by Sinisha Nisevic and styled by L.A. celebrity stylists The Kids, Usher's feature in the magazine spans over 13 pages and includes him covering the Men's Fashion section as well.
In his interview, entitled 'The Man Who Can Do It All,' the record-breaking entertainer discusses his stint on The Voice, his upcoming album, jumping back into acting, and more. When asked about his upcoming album and not making commercial hits, he told the magazine: "I don't feel that I've got to sell out this tour, or sell crazy amounts of albums, or have the number one single. It's great to have all those things, but that isn't what I'm doing."
The signer also went on to speak about his experience while creating the new body of work. "It's still a work in progress. I'm at a place where I really just want to have fun and do what I feel is significant to me. These last three years have been the hardest times of my life. I've wanted to break down, I've wanted to quit. I've wanted to throw in the towel but my spirit wouldn't allow me… The one thing the album represents is confidence. Not confidence in a cocky way, but being open about what I feel, take it or leave it. If I'm not honest about my feelings then you'll never know how I really feel," said the "Believe Me" crooner.
While the full interview isn't available yet, fans can get a small taste of what Usher had to say here and don't forget to check out a few of the shots from the shoot after the jump!