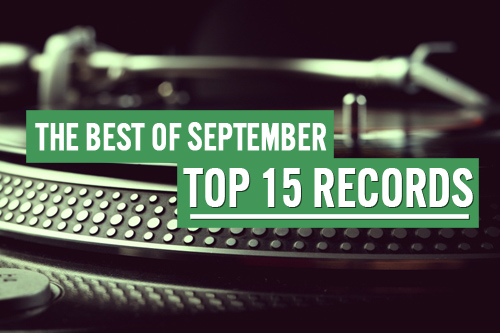 It's that time of the month again, so you know we got you with some good ones! While September may be over as well as Summer, that doesn't mean there wasn't plenty of hot, feel-good music last month for us to reflect on.
Now, we know August was able to give you a taste of what the Fall would bring with the sounds of Tinashe, Elijah Blake, Usher, Luke James and more, but this past month we promise we had even more. From newcomers to the list such as Richard King and Kevin Ross, to repeat "Best Of" artists like Tinashe and Ne-Yo, we assure you that there will be something on September's round-up that has you feeling like you dropped the ball when it comes to recent music.
So, open up the sliding glass door, pour your glass of wine, watch the leaves fall, and put the music on blast 'cause it's time for our "Best of September – Top 15 Records"! I thought I told you that we won't stop, I thought I told you that we won't stop?! *Diddy Bops*
Check it out after the jump!
Jazmine Sullivan – Forever Don't Last
One of the most anticipated returns to the industry for us has without a doubt been Jazmine Sullivan. Delivering the second single off of her upcoming third studio album Reality Show, the incredible vocalist reminds us in the best way that "Forever Don't Last."  A true ballad sung with every bit of of real vocal talent, there should absolutely be no question as to why this kicks off September's list.
K. Michelle – Love 'Em All
Despite how you may or may not feel about K. Michelle, one thing you won't be able to take away from her is her voice and her writing talent. While we patiently await her sophomore album, the R&B songstress switched the game up a little bit with her brand new single "Love 'Em All." Giving us a bit of rock mixed with her soulful vocals, K explains her current thought process when it comes to how she deals with her many men.
Mary J. Blige – Whole Damn Year
The Queen is back! While September saw Mary J. Blige deliver a few cuts from The London Sessions, it was this one in particular that caught our ears the most. Singing of heartbreak and the ability to pick yourself up again, the Emeli Sande penned track resonates with many women (and some men) of the world. Hopefully though, it doesn't take a whole damn year to get past heartbreak.
Ne-Yo feat. Juicy J – She Knows
Ne-Yo is back and we're all here for it! Rolling 2 for 2 with singles from his upcoming album, we are heavily anticipating the project Non-Fiction. Calling on Mr. Turn Up, Juicy J, to assist him in creating a strip club banger, "She Knows" is the perfect balance for a radio/club hit. We know it, and we love it!
Tinashe – Feels Like Vegas
Earlier this month, buzzing singer Tinashe leaked a new single from her upcoming album Aquarius, titled "Feels Like Vegas" and we couldn't get enough of it. With less than a week until we're able to have her debut album in our hands, listening to "Feels Like Vegas" made us feel like we hit the jackpot.
See More on Page 2