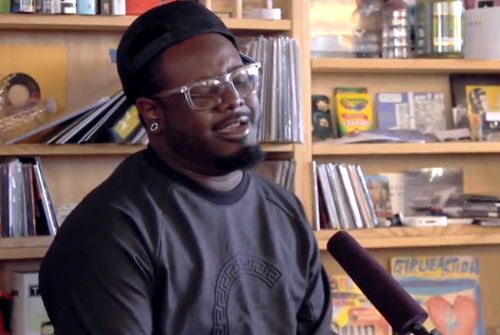 This may or may not surprise you but T-Pain can actually sing. The platinum hitmaker has only shown off his real vocals a very small amount of times, but this week he gave an unplugged performance before an intimate Washington, DC audience for NPR's All Songs Considered Tiny Desk concert series.
In the session Pain performed his classic "Buy You a Drink" along with his 2014 smash hit "Up Down" and newest single "Drankin' Patna." All three songs and more of his hits will appear on his upcoming greatest hits compilation album T-Pain Presents Happy Hour, which drops November 4 via RCA/Nappy Boy Records.
During the mid-late 2000s T-Pain had hit after hit and could do no wrong, his use of auto-tune was unique and he was considered an innovator by many, but somewhere along the way some people got it twisted."People felt like I was using it to sound good," says T-Pain, in an interview for All Things Considered. "But I was just using it to sound different."
While he has not put the vocal enhancing plugin down, he treated the audience to the two things that really made his career: his voice and songs.
[via NPR]