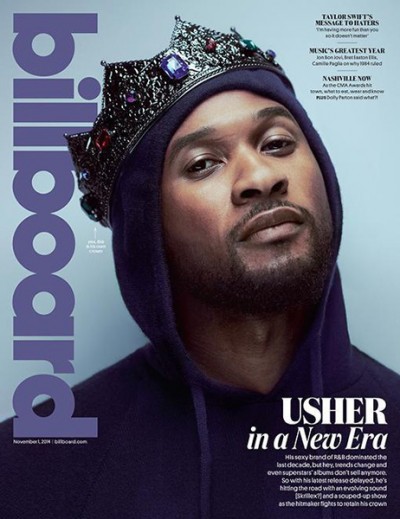 Perhaps one of the most talked about men in R&B history, Usher has had a storied and incredibly successful career in the industry. From the time he stepped on the scene in the early '90s as a teenager to now a single father, performer, businessman, and much more, Usher continues to hit new heights.
In a brand new interview with Billboard, Usher spoke about pushing his new album back, learning "chutzpah" from Diddy, his upcoming tour and much more. Check out excerpts from the interview below!
Dressed in a blue drawstring hoodie and embellished crown, the incredible vocalist continued his reign on the cover of the latest issue of Billboard Magazine. While his eight studio album was originally slated for a Fall release, the singer insists that the push back was simply because he wasn't ready. He told the famed magazine, "I just ain't ready. Meaning I have more that I want to say and more that I want to do. My process is pretty different. L.A. Reid will tell you, it takes two albums to make one with Usher."
In the interview, Usher also went on to talk about his position as a mentor and him being mentored by Diddy – who was then known as Puff Daddy. "I'd say I earned my stripes in New York City. My time with Puff, it gave me chutzpah. I got to see performers like Tupac Shakur, Redman, Method Man, Ice Cube. I got to perform onstage with the Notorious B.I.G., be in sessions with him and Craig Mack. I got to be part of the driving force that was Bad Boy, that was Puff," he said.
The humble 36-year-old also went on to discuss his relationship with Justin Bieber, whom he discovered back in 2008. Usher, who has been vocal about his relationship with the young singer told Billboard, "Our relationship is more man-to-man now," he says. "He's making his own decisions and it's important to show support. I can say I'm not happy with all the choices my friend has made, but I'm supportive of him. I try my hardest to give as much positive reinforcement as I can. I'll punch him in the f—ing chest when I need to, and give him a hug and kiss when I need to. It's more than just mentoring. I love the kid."
In addition to the above, Usher touched on his upcoming tour, early childhood and much more. To read the full interview, click here.