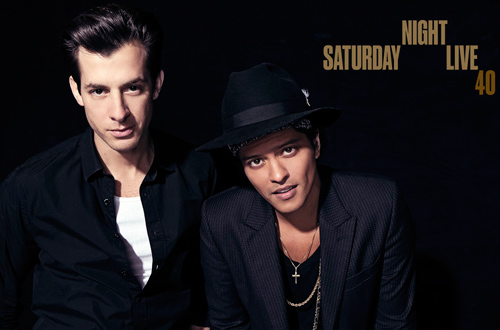 The funk was hot and dirttyyy on Saturday night as Mark Ronson and Bruno Mars brought the live performance debut of their new hit single "Uptown Funk" to 'SNL.'
The duo, who previously worked together on three tracks from Mars' last album including the mega hit "Locked Out of Heaven," were backed by a powerful horn section, a quartet of backup singers and a city skyline of neon lights, as they turned the 'SNL' stage into a smoky, funky dance club.
Their highly stylized performance was reminiscent of the single's recently released music video, and the Morris Day and the Time sequences in 'Purple Rain.'
Last week, there were reports that Mars and Ronson would be joined by a "very special guest" during their appearance on the show, and the rumor held true during their second song of the night. Debuting the James Brown-inspired "Feel Right," the duo surprised viewers with "Shake Ya Ass" rapper Mystikal, who took over lead duties, pushing Mars to backup. The groovy track finds Mystikal delivering his best impression of the Godfather of Soul, as he rapped each line like a sermon, and displayed some fancy footwork.
As they say: "Saturday night and we in the spot, don't believe me, just watch."